This post may contain affiliate links. Read my disclosure policy here.
Last night we kicked off our Ultimate Blog Parties "In Real Life" as 5 Minutes for Mom took LA by storm. With the help of Chris Mann of course! We were thrilled to see so many of you join us as we streamed the event live on Ustream.tv.
If you missed the party last night, don't despair… watch the recording of all the fun and madness on our Ustream channel.
And, once again, a huge Thank-You to Heather from The Spohrs Are Multiplying and VDog from VDog and Little Man for hosting last night's party!!!
Tonight we will be partying once again. This time we will be hanging out in Nashville with "Real Life" hostesses Malia from Live.Laugh.Love and Ali from Mrs. Fussypants.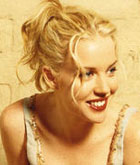 Tonight's line-up: an exclusive performance by Leslie Mills of Yanni Voices and more fun from fellow bloggers.
We are so excited to have Leslie Mills with us on the eve of the release of her new CD project Yanni Voices!
Join us tonight at 9pm EST as we stream live here at 5 Minutes for Mom and on our UStream channel: http://www.ustream.tv/channel/5-minutes-for-mom!
How Do I View The Party Tonight?
I'm so glad you asked! We will be streaming the video live tonight at 9pm Eastern. You can view the live stream one of two ways:
You can come back here to this post tonight, Monday March 23rd at 9pm Eastern and watch the party live right here. It should stream live to you in the player below. If you get here right at 9pm Eastern and the party isn't playing for you, give it a few minutes as there may be a short delay. You may also have to click the "play" button on the player above to start the viewing if you come after 9pm Eastern .

(If you have any troubles viewing this live stream, send us a tweet on Twitter and use the hashtag #ubpirl and we'll try to resolve any issues.)
OR…
You can also visit us over at our Ustream channel.
Why go to the Ustream channel? –> So you can LIVE CHAT with us.
When you view the live stream on UStream you can also chat with us, and everyone else watching the stream, live!!! It really just adds another element of fun to the Party. Never been to Ustream.tv before? No problem. Here's a quick How-To:
Ustream.tv
Head over to the 5 Minutes for Mom Ustream channel. The live stream will appear in the window on the left, where the slideshow is currently playing. Again, if it doesn't start right away, give it a minute as we might be delayed. If others are seeing the live stream and you are not, try refreshing your browser. (You might need to click open in pop-up window.)

You do not need to sign-up for a Ustream account in order to join-in on the chat (in the window on the right side of the screen). You can simply join the chat as a visitor. But, if you would like to have a customized screen name appear in the chat, you can do so by signing up for a Ustream account. It's free and it's easy. You can sign-up and login by following the link at the top left of the Ustream window.
Join us for the Ultimate Blog Party "In Real Life" Nashville-style tonight!
If you should have any problems viewing the live stream tonight, please let us know via Twitter (use the hashtag #ubpirl) and we'll help you out!
@5minutesformom, @BarbaraJones, @satcygirl