This post may contain affiliate links. Read my disclosure policy here.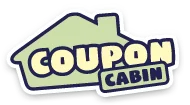 Have you heard of
CouponCabin
?  CouponCabin is a website that was created to give shoppers a fast and easy way to save money while shopping online.  I was surprised to find that they have actually been around since 2003 and definitely wish I had known about them sooner.
CouponCabin's daily features include more than 3,000 online stores to search through and offers more than 100,000 coupons and deals that are updated 3 times a day! They say that the average CouponCabin shopper spends just 80 seconds on the site & saves $19 per order.  How amazing is that?
CouponCabin has launched an app that is now available for Android and iPhone.  And its FREE! The CouponCabin app was designed to save time and money, by providing users with information on local coupons, online offers, grocery, freebies and it even compares local gas prices for you all in one app!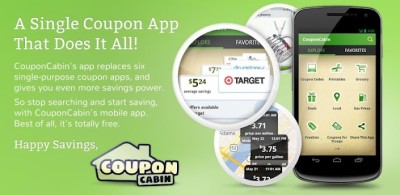 I have an Android.  I was able to download the app in just seconds, and I was instantly in love.  While I have always been a coupon clipper I sometimes get frustrated over trying to hunt down coupons and deals.  Does that happen to you?  I can not tell you how many times my paper has arrived missing coupons.
Fear no more.  This app makes it so easy to find a deal.  Click on the grocery icon  and you can view and download top grocery coupons by brand.  The coupons are designed to print.  While you can occasionally have a retailer redeem via your cell phone, you may just want to email the coupons to yourself to be printed.  Bar code scanning is listed as a feature coming soon!
Wondering where the cheapest gas is near you?  Click the gas icon and it loads up with your current area.  With a touch of the screen you get all the nearby gas stations, current price per gallon (the time it was last updated) and directions if you need it.  No more driving around trying to compare prices at stations.
There is another icon that says 'local'.  Just by clicking that you are shown all the current deals near your location…which restaurant, store, or any other business.  And again, directions if you need it.  That has to be my favorite part.  I'm thinking how it can even come in so handy on vacation when you are not familiar with the area.  Who doesn't love a deal.
Absolutely loving this app!  I couldn't  help but notice the icon 'coupons for the troops'.  You can send your expired or unused coupons to them to be sent to military families to be used on bases around the world.  Very cool idea.
In addition to their website, you can also follow up with CouponCabin on Facebook and Twitter.  I highly recommend downloading the new mobile app.  Its already become such a huge time saver for me and I am wondering how I ever lived without it.  I'm hooked!
*Disclosure: This is a sponsored post. All opinions expressed are honest and my own.