This post may contain affiliate links. Read my disclosure policy here.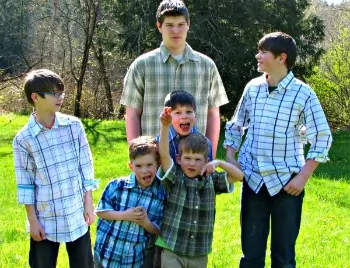 Guest post written by Shera.
As the mom of 6 boys people automatically assume I possess superpowers, today I'd like to clear up that myth. I am the most imperfect mother I know, but it's through those imperfections that myself and my children learn the most.
My house is messy, my laundry is never done, my kitchen sink is hardly ever clean, my kids are loud, I could go on and on, but I'll spare you the agony. I know I'm not alone, yet whenever I look around every other mom seems to have it totally together.
For starters, their kids' shoes are not only always on the right feet, but also look brand new (my very independent 6 year old twins are notorious for putting their shoes on the wrong feet and LOVING puddles). Ok, so it's a strange thing to notice, but it proves my imperfections daily.
I have learned the importance of simplicity, grace and humility. I have also realized something rather mind-boggling…. being overwhelmed as a mom is often a result of trying to be like someone else. Usually it's from seeing the outward appearance of a family that looks perfect (I guarantee you they are not) or something you saw on television or read in a book.
Don't get me wrong, you can get amazing ideas on how to become a better parent by modeling things that you see in others (or read) and feel drawn to for your own parenting. But it's easy to forget that you aren't that person and your parenting has to be uniquely you. In other words, the perfect parenting style for you will never look exactly like the next mom over.
Do you love your kids? Do you try to enrich their lives and your own? These are the greatest and most perfect ways you can mother your children today.
Don't underestimate the importance of the simple little things in life… providing healthy food, clothing and shelter in a loving environment is so much bigger than most parents realize. Be encouraged that you are never alone and that perfect motherhood is always imperfect.
Written by 5 Minutes for Mom contributing writer, Shera. Shera is the mom of 6 boys ranging in age from Kindergarten to High School. She loves writing, color, photography and all things pretty. You can find her blog at A Frog In My Soup. You can also follow her on Twitter and Pinterest.