This post may contain affiliate links. Read my disclosure policy here.
This is one of those days that I'd love to be sitting outside with a cool Spring dessert, unfortunately our weather has been less than cooperative. Jumping from a chilly 60 degrees one day to a steamy 85 degrees the next, I can't help but wonder if we just skipped Spring altogether and jumped straight into summer.
Never-the-less, whatever the weather decides to do, that won't stop me from enjoying one of my absolute favorite Spring desserts … lemon curd. A small bowl of sweet, grilled pound cake, tart lemon curd and fresh blackberries reminds me what I enjoy most about Spring, the fruit.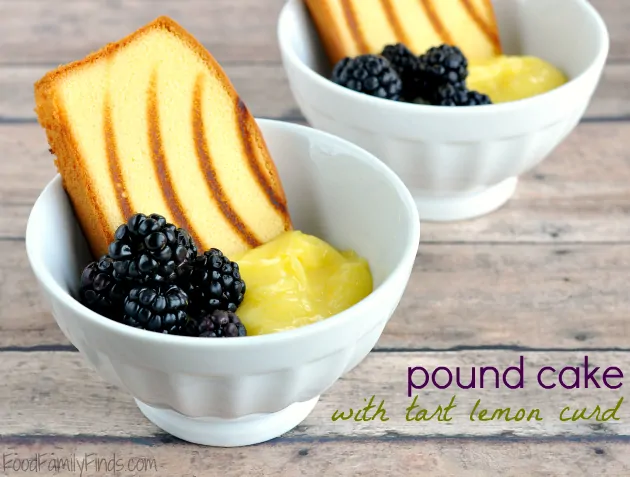 Lemons and blackberries are my favorites for Spring, so how about you, what's your favorite Spring fruit?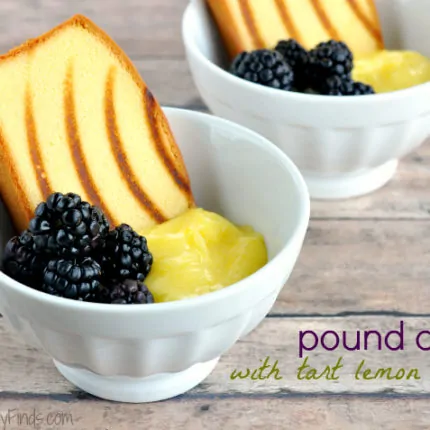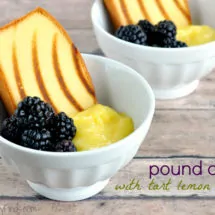 Ingredients
4 slices of pound cake fresh or frozen and thawed
1 cup fresh blackberries
Lemon Curd
3 large eggs
2 large lemons
3/4 cup sugar
3 tablespoons butter diced
2 tablespoons of lemon zest divided in half
Instructions
Heat a double boiler over medium-high heat with 1 inch of water in the bottom pan. Or you can use a medium (heat safe) glass Pyrex bowl over a pot that allows the bowl to sit on top without touching the water.

While the water is heating to a simmer, in the Pyrex bowl, beat eggs until combined.

Add sugar and mix.

Squeeze the juice of 2 lemons through a strainer into a measuring cup until you have 1/2 cup of fresh lemon juice.

Use a microplane to remove the lemon skin (zest) into a small bowl and divide in half.

Add the juice and half the zest to the egg mixture and whisk together until smooth.

Place the bowl over the simmering pot of water, stirring constantly with a whisk for about 10 minutes. The mixture will become thickened.

Remove from heat, add the remaining zest and butter, stirring until melted and smooth.

Allow to cool for 5 minutes then cover with plastic wrap and refrigerate until ready to use.

Serve with grilled pound cake (or fresh) and blackberries.
Pin it for Later