This post may contain affiliate links. Read my disclosure policy here.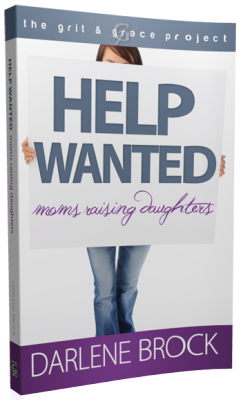 Reading Help Wanted: Moms Raising Daughters, the impression of author Darlene Brock comes through loud and clear. She's a smart, driven, caring, and uncompromising mama. If only I could claim all of those labels.
Yes, it's a book about all that goes into parenting girls, but Brock also gives an informative perspective on many issues of our day: the educational system, feminism, media, marriage and more.
Motherhood is a calling. You can give birth and raise kids and never fully say "yes" to all the job truly entails, but Help Wanted: Moms Raising Daughters gives you the want to and the know-how to make the most of the time we are given with our daughters with equal measures of pep talk, personal narrative, and awareness-raising.
What are the roles she challenges us to fill as moms?
Coach
Creative Counselor
Time Manager
Media Advisor
Academic Advocate
Professor of Gender Studies
Relationship Counselor
Sex Ed Teacher
Financial Consultant
Bodyguard
Communications Specialist
In-Home Decorator
Military Strategist
Some of these are exactly what you might expect, while others will probably cause you to reevaluate some of your gut reactions to situations. I love books that challenge my thinking and yet still leave room for me to process and reach my own conclusions!
We have one copy of Help Wanted: Moms Raising Daughters to give away. Please leave a comment if you'd like to win. We'll announce the winner in our May 7 book review giveaway column.
Keep up with Darlene Brock at her blog and learn more about her Grit & Grace Project.
The winner of Confessions of a Scary Mommy is #37 Garrett.