This post may contain affiliate links. Read my disclosure policy here.
The sudden death of Claire's father causes her to reevaluate
her relationship with him — which was never good
her own career
her relationship with her young adult daughter
whether or not DNA factors into artistic talent
These themes will resonate with most women. Who hasn't compared their relationship to a parent with a sibling? Who hasn't coveted a talent that another family member possesses? Who hasn't wondered whether or not you're using your own talents in the best way? Who hasn't wished for a second-chance to let a loved-one know how you felt? There are questions in the back of the book designed to stimulate further discussion. It would be great to read it with a friend or a book group.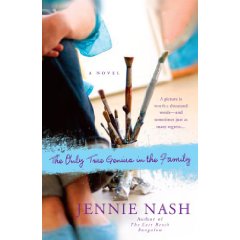 I read The Only True Genius in the Family by Jennie Nash within 24 hours. It's not a suspenseful novel, but as I finished each chapter, I itched to turn the page and begin the next one immediately. This is always a prime indicator that I am really enjoying a book, but I did wonder if speeding through a novel lessens the joy that comes from savoring the story and the characters. However, both the themes in this novel and the characters themselves have stuck with me, so I don't think that I robbed myself of anything in this particular case.
I enjoyed it and it touched me — by making me laugh as well as dwelling on the characters and the issues raised — which leaves no doubt in my mind that it's a book I'll be recommending throughout the year.
If you'd like to win a copy of The Only True Genius in the Family (U.S. shipping addresses only), leave a comment here. The winner will be announced in next Monday's column and is subject to our terms and conditions.
This giveaway is linked to the Bloggy Giveaways carnival. Check out more giveaways over there all week long. Be sure to enter our HUGE book giveaway at 5 Minutes for Books as well (you can win a set of books worth over $150).
The winner of last week's book, How to Be Like Walt, is #159 Brenda. You should have received an email from me, but if not, please send your shipping info to 5minutesforbooks [at] gmail DOT com.