This post may contain affiliate links. Read my disclosure policy here.
If there is one thing my kids can do, it is talk! My monkeys start talking at 9 months and don't stop.
Jackson was extremely advanced verbally. As an intense, emotional child, it was always so helpful for all of us that he could express in words to us how he was feeling.

But what if your child CAN'T express those overpowering feelings?
I knew we were so blessed that Jackson could tell us how he was feeling and I so often thought about what it would be like if he couldn't.
So when I saw these BRILLIANT cards called FEELEEZ that allow children who are not yet verbal or who are non-verbal to express their feelings, I was so excited I had to tell you all about them!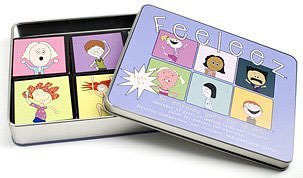 Not only are they super colorful and fun for kids to use, but most importantly they can equip a child with the ability to tell the world what is bubbling up inside them. Simply wonderful!
To read more about them and to enter to win some Feeleez for your child or a child you know, head over to 5 Minutes for Special Needs.