This post may contain affiliate links. Read my disclosure policy here.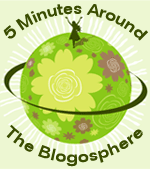 Welcome to our weekly roundup here at "5 Minutes Around the Blogosphere".
As usual we have a ton of announcements, fantastic posts and giveaways to share with you.
Also, as we started last week, we are now including a Mr. Linky at the bottom of this post so that you can add more giveaways throughout the week. If you're hosting a contest, or you have a noteworthy post, go ahead and add the url to the Mr. Linky and then link back to this post so that others can join the fun.
ANNOUNCEMENTS
Baby Fest is here! Just for mom and baby – Baby Fest offers giveaways, reviews, discounts and great mom-to-mom advice and information.

Brought to you by www.AFrogInMySoup.com and sponsored by amazing companies, this event has blessed the life of one expecting mom and will be offering ways for everyone to participate.

Follow us as we take moms through pregnancy, the baby shower, great gifts and bringing baby home! You can see the information post here Runs through the end of January!

AT&T has teamed up with Share Our Strength – a national organization dedicated to making sure no kid in American grows up hungry – to launch two new initiatives to fight childhood hunger. Approximately 12 million children are at risk of hunger in America, up 30% since 2007.

Here's how YOU can help:

– Text "SHARE" to Contribute
From now until March 1, AT&T wireless customers can donate $5 to Share Our Strength by texting the word "SHARE" to 20222 on their mobile device*. The AT&T Foundation will match donations made by AT&T wireless users up to $100,000.

– Hold a Food Drive in Your Area
Help meet the growing need for food by holding a food drive in your area between Jan. 19 and Jan. 31. Your work will help those in need during the coldest months of the year. Find a food bank near you. Check the list of most-needed foods.

The Beautify Your Heart program, a partnership between Metamucil® and WomenHeart is encouraging women to get cholesterol screenings and assists in helping them learn healthy habits for beautiful hearts.

To support this Beautify Your Heart program, Metamucil is encouraging 100,000 women to get their cholesterol screened and donating $100,000 to WomenHeart to help fund heart disease education and patient advocacy programs. "Desperate Housewives" star and heart health advocate Brenda Strong was the first of 100,000 women to get screened.

CONTESTS & SWEEPSTAKES
National Geographic Kids magazine has teamed up with PromPeru and the marketers of PURELL to search for America's next generation of explorers and the teachers who inspire them.

Fifteen young explorers and two teachers will be selected as members of the 2009 National Geographic Kids Hands-On Explorer Challenge Expedition Team and will win the field trip of a lifetime — a 12-day expedition to Peru with National Geographic and local experts as their guides.

Highlights include exploring the ancient ruins of Machu Picchu, voted one of the New Seven Wonders of the World, and visiting Tambopata Reserve deep in the Peruvian rain forest, where team members will have the opportunity to help in a research laboratory. All winners will also receive a digital camera courtesy of Nikon.

The Peru expedition is scheduled for May 23-June 3, 2009. Entries must be postmarked by Feb. 5, and received no later than Feb. 12, 2009. Complete rules and details can be found online at http://kids.nationalgeographic.com/contests/Explorer-trip-2009
BLOG GIVEAWAYS
For Everyone
Just for Kids
Baby Essentials
Books for Grown-Ups
POSTS WORTH YOUR WHILE
Would you like to share a fun giveaway or a worth our while post? Please add it to the Mr. Linky below. You can come here any time this week to add in your link. Don't miss out on the fun. Be sure to visit throughout the week as the linky grows, and more sites are added.

If you would like to have a post on your blog featured in 5 Minutes Around The Blogosphere, please send us an email with the actual link to your post at features5minutesformom at gmail dot com and we'll see if it can be arranged.