This post may contain affiliate links. Read my disclosure policy here.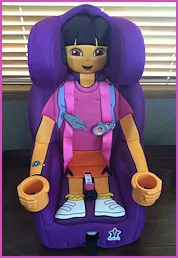 Child safety has always been an utmost concern for my husband and I especially when it comes to being safe while on the road with our precious cargo. That is why Kids Embrace caught my eye. Not only are they making Booster Car Seats that are safe, they are fun for kids as well. I wish I had a tape recorder going when my daughter opened up the shipping box only to see a Dora the Explorer car seat. She shrieked so loud and was so excited. As a side note that was funny to me due to the fact that there have been times when my daughter absolutely did not want to get in her car seat and would make me putting her into it a very trying feat. So with her showing that much excitement I figured that those days were behind me. And I was right.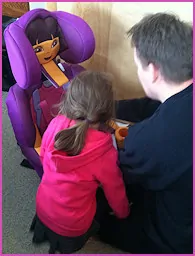 My daughter loves her new car seat, will go anywhere that I ask her to go without a fuss because she loves being in the "presence" of Dora. For my husband and I, we love that it meets all safety standards as well as having a cup holder and a snack cup holder, something that will be very useful to us on our upcoming cross country move. Our daughter is very comfortable with the padded seat and the head rest which will allow her to fall asleep comfortably and she will be protected, and she will be able to use it longer as it has three different position that you can put it in. With Kids Embrace my husband and I can rest knowing our little one is protected, with over 60 years experience in children's car seat design and 22 ultimate installation and safety features, we are very happy with this seat. And my daughter? Well she is just happy with Dora, and that is all she needs to be concerned with!
About Kids Embrace
In sudden stops or crashes, the KIDSEmbrace™ seat controls forward movement of the child's head using our own patent-pending high-position top tether system, which allows the head support to rise and lower with the tether in place. The KIDSEmbrace™ car seat offers side-impact protection and our deeper "wraparound" headrest design shields the sides of your child's face from flying glass in event of a collision. In fact, no other child safety seat on the market has the same combination of features as this one. We are providing the highest quality product, conceived by a veteran design team and engineered to NHTSA rigid crash test standards and our own rigorous KIDSEmbrace™ quality standards.
Kids Embrace car seats can be purchased at places like Wal Mart, BabiesRus, Meijer, and more. Visit the site to learn about more places where you can find these neat child seats.
Connect with Kids Embrace on
Enter to Win
One winner will be chosen to receive their very own character car seat of their choice. Choose from Dora, Spongebob, or Dale Jr the racecar driver. This giveaway will end on March 23rd and a winner will be chosen from Random.org and announced in the weekly Around the Blogosphere post.
Disclosure: I was sent a Dora Booster Car Seat in order to write my review. All opinions are my own.
This post is written by Jennifer Leet. You can find her at

Thedirtytshirt.com  /  jenniferleet.com / @Jentifa