This post may contain affiliate links. Read my disclosure policy here.
When I was growing up, pork chops were a regular feature on our dinner menu. Unfortunately, my mom doesn't like food. And she doesn't really like to cook. Those poor pork chops were flavorless and burned to a crisp each and every time. It probably doesn't come as a surprise that as an adult I avoided pork in all forms for years. The ads talking about the relative health benefits of pork intrigued me as I grew older and realized how little the food my mom cooked resembled what it was supposed too.
Pork is lower in saturated fat than it was twenty-one years ago. It's naturally low in sodium – something those with heart problems have to watch out for in their diets. Pork tenderloin, in particular, is an excellent source of protein, thiamin, vitamin B6, phosphorous, and niacin, according to the USDA database. Knowing that my mom has heart issues and is now on a reduced-sodium diet, and that my gram and so many others have struggled with their health as they grew older, I decided that it was time for me to grow up and get over my notions of the hockey puck pork chop my mom used to serve.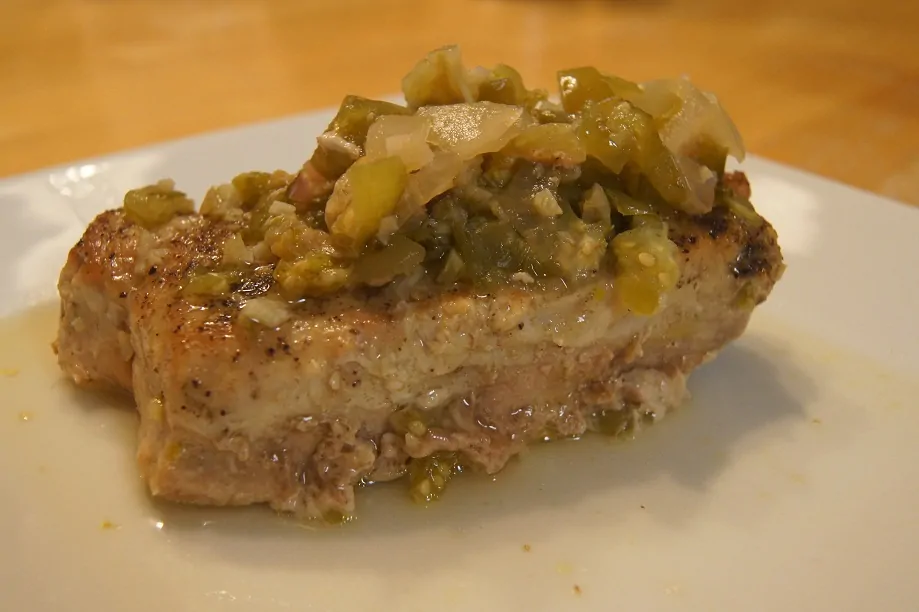 This year, the Pork Association is participating in the ninth annual Women's Day Red Dress Awards in celebration of having the American Heart Association's Heart-Check icon added to its labels. When I was approached to receive a kit of goodies from the Pork and American Heart Association, I jumped on it to prove to myself that there's more to pork than my mom showed me growing up. I've made pork tenderloin in my crock pot that came out wonderfully juicy and flavorful, which gave me hope that I can create delicious and healthy pork meals with just a little more of a push. And I was right. The American Heart Association cookbook that was included in the kit had a number of delicious pork recipes in it. It was hard to choose just one to start, but I went with the Pork with Salsa Verde, something that met a number of my needs last night.
First, it was cooked in a crock pot, saving me a ton of time. Second, it had primarily ingredients I keep in my pantry – I had to purchase only the pork and the tomatillos. Third, it was something I had hopes that Mister Man would enjoy. Fourth, it looked healthy to me – something to cook from scratch that didn't have heavy sauces or ingredients with tons of calories and fat.
As it turns out, this is not the pork my mom used to make. While you still have to be careful not to overcook pork or it will become tough, I had no issues with this in the crock pot. The pork was easy to prepare, and it cooked beautifully, making a tasty but not too spicy sauce to accompany it. Mister Man, my child who insists everything is too spicy, loved it. He ate all of his and almost half of mine. And he ate the tomatillos because they were yummy, too. I love having meals that everyone in the house enjoys, and my husband loved that he could use the extra salsa verde as a dip for some tortilla chips. The true proof, however, was when the wee ones begged to have some of the leftovers in their lunch today. They were crushed when I told them it was all gone and only promising to make it again soon brought the smiles back to their faces.
Now my dilemma is which recipe to make next. Do I do a new pork recipe to try something else, or do I stick with what is apparently becoming a new family favorite? Either way, I know there's pork on the menu again this week – and I feel good about it knowing that pork now contains the American Heart Association's iconic Heart-Check mark. It's a perfect way to celebrate the end of national Heart Health month, but one of you can continue to celebrate with the same kit of goodies I received.
In the interest of full disclosure, I received a kit of goodies as described above. I was also compensated to write this post. That said, all opinions expressed remain my own.
Written by 5Minutes4Mom contributor Michelle, who is thrilled to report that Mister Man ate – and loved – cumin for the first time in his life. She's now searching for more heart healthy recipes that contain spices he might find palatable. Some of those recipes may appear in the future on her blog Honest & Truly! You can also see what she's cooking up by following her on Twitter where she tweets as @HonestAndTruly.