This post may contain affiliate links. Read my disclosure policy here.
Microsoft just announced that Windows 8 is now ready to preview! I'm so excited to hear about this! I love my Windows 7 and have learned to do so much with it, but now –Windows 8 has arrived on the scene.
Windows 8 has been designed to work on devices like touch tablets, laptops, desktops, and all in one machines. There are so many new features and things I think are fabulous and will do a wonderful job keeping me and you organized in the future!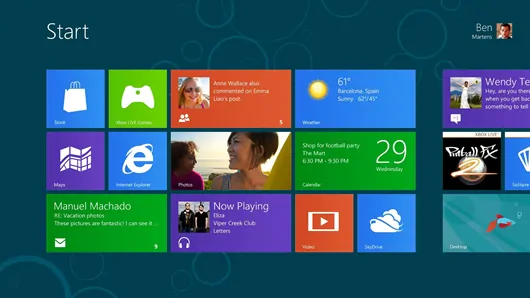 Some things you should know before installing Windows 8 Consumer Preview
Windows 8 is in the preview stage, so before you download it and get all involved, you need to make sure that you are ready for it.
~The Windows 8 Consumer Preview is just that: a preview of what's to come.
~If a list of hardware specs is a little overwhelming for you, or you're not sure what you'd do if something unexpected happened, this might not be the time to dive in.
You'll need the right hardware in order to download it. Click HERE to visit the Windows Experience Blog to make sure you have the right requirements to download it.
What you can do with Windows 8
Move easily between PCs, courtesy of the cloud: Because of the cloud, you no longer need a jump drive or external drive to transfer files. All of your photos, files, music and more is one place–the cloud.
Type and click, or swipe and tap: Now that there are touch pc's on the market, all of your tasks will become a lot easier! If you have been using a smartphone for any length of time, then you will already be familiar with the touch capability.
These are just a couple of the wonderful things that you can do with Windows 8. To find out the full complete list, visit HERE and read about sharing, Windows Defender, Bing search, Internet Explorer 10 and so much more!
So, are you excited about this release of Windows 8?
Please Note: We are Windows Champion Bloggers and Office Ambassadors. Microsoft is sponsoring this post. As always, our opinions are 100% our own.