This post may contain affiliate links. Read my disclosure policy here.
Jamba Juice smoothies. Mmmmm. I know. I know what you are thinking.
The classic smoothies, am I right? Razzmatazz is my absolute favorite! Made with mixed berry juice, orange sherbet, strawberries, bananas, and ice. I would get the original (at 390 calories).
The classic smoothies are good for a treat here and there, but did you know Jamba Juice had even healthier stuff? I took my own little poll and was surprised to find that not that many people I talked to had even looked at their healthier drinks. While I knew they had some on the menu, I had never given them a try.
The pop up fitness blogger event with Jamba Juice gave me the opportunity. Last month Jamba launched their new Fit 'n Fruitful smoothies with Weight Burber Boost.
From their website, the Fit 'n Fruitful is a: satisfying meal substitute that provides balanced nutrition. With 14 essential vitamins and minerals, a good source of protein and fiber and two or more servings of fruit, these smoothies are great for breakfast, lunch or a delicious between meal snack. Plus, all three Fit 'n Fruitful™ smoothies include our Weight Burner Boost* to help support long-term weight management goals.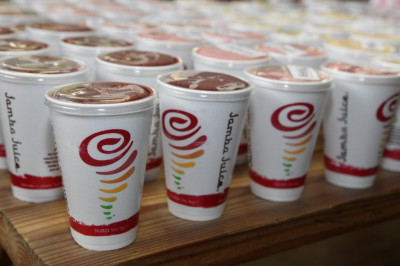 Wondering what the weight burner boost is? It's made with conjugated linoleic acid ("CLA"), which is derived from safflower oil. It is a naturally occurring fatty acid commonly found in foods like milk. When used daily in addition to eating healthy and exercising, the weight burner helps support weight management goals by stimulating muscle enzymes to burn more fat.
Just what I need. The best part is that it's caffeine free! I was impressed with the Fit 'n Fruitful before I even tried it. I liked knowing just what the ingredients were and where it came from.
The Fit 'n Fruitful comes in 3 delicious flavors. Peach Mango, Strawberry Raspberry Banana, and my favorite…Berry Blend (at just 290 calories for the sixteen)! Berry Blend is so good. I definitely look forward to drinking more of them in the future.
They also had Fruit & Veggie smoothies at the event. Packed with a full serving of vegetables and two full servings of fruit, these smoothies make eating your veggies its own reward. Fruit & veggie comes in Apple 'n Greens, Berry UpBEET™, Orange Carrot Karma.
One flavor that I really did not want to try was the  Berry UpBEET. I don't do beets. It's made from strawberries, blueberries, mixed berry juice, red vegetable juice (carrots, beets, broccoli, spinach, kale, lettuce), mangos, and ice. Guess what? You don't even taste these things when they are all mixed in! It is delicious! YUM!
You can also try Jamba's Probiotic Fruit & Yogurt Blends (in Vibrant Blueberry, Strawberries Alive, or Thrivin' Mango). Want a Pre-Boosted Smoothies? If you are trying to build muscle, get more in vitamins, or even just feel under the weather, try the pre-boosted smoothies (in Acai Super-Antioxidant™, Protein Berry Workout™, or The Coldbuster®).
I am definitely going to be stocking my refrigerator soon!
 I had an all expenses paid trip from Jamba Juice for the Life Fruitfully campaign. All opinions listed are my own.

 Liza is a blogger and freelance writer.  She resides in Rhode Island with her husband and 3 active boys – a five year old and identical twin four year olds.