This post may contain affiliate links. Read my disclosure policy here.
I am a huge fan of Begin Smart Books. When we started 5 Minutes for Books, I decided to have Carrie, toddler mama, review them, since my youngest child had just turned four. You can find her review of All Gone; One, Two; and and Mommy and Me HERE. We also featured a great essay from Harriet Ziefert, the series creator: On Reading to Infants, Babies and Toddlers.
So when a box of some newer titles landed on my doorstep, I was so happy! What's more, even though these books are designed for newborns to two years old, my four-year-old son Kyle still enjoys them! I think that as parents we are always tempted to push our kids developmentally — by giving them toys slightly above their age. Sometimes it's fine, and they can often enjoy them, and we feel like they will "last longer," but in truth, a toy (or book) that is targeted right where they are is going to benefit them most. I would never buy these books made for young toddlers for him, but I think that the fact that they do hold his interest are a big testament to how great they are.
The Begin Smart Books are all categorized by age: newborn to six months, six to twelve months, twelve to eighteen months, and eighteen to twenty-four months, and are developmentally appropriate to that age range.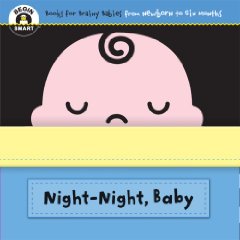 For example, in the under six months category, you will find "peekaboo" type books that help reinforce object permanence. Hello, Baby! has a cutout that shows through to the next page — either the baby's mouth or eyes as an object (a hat, a blankie etc) covers and uncovers. It's a great pre-cursor to a lift-the-flap book. Begin Smart: Night-Night, Baby is a beautiful, soft fabric book. I love these kinds of books, because babies can snuggle up with them at naptime as they get a bit older, and entertain themselves as they are waking up or trying to go to sleep. This book invites babies to put to bed various creatures: baby, kitty, mouse, pig as you turn the soft blanket from one to the other saying "night, night." Finally, Baby Faces is a fold-out book that features what babies love to look at most: other babies' faces!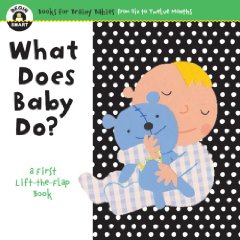 For babies six to twelve months old, there are books like What Does Baby Do?, which has a sturdy flap that flips over showing a thought and an action. For example: Baby sees a kitty. What does baby do? (flip) Baby makes nice. Nice kitty. Woof features pictures of dogs of all types accompanied by the simple descriptive text: toy dog, noisy dog, happy dog etc. It also has a fun sound-effect button that the baby can push to hear a dog bark. Hi! Bye! is a perfect example of a great developmental book. I'm sure that most people would find it far too simple for their ten-month-old baby, but it's so cute — dog shaped, thick pages, and it gets the point across. The face shows "hi," then the page is turned showing the rear of the animal (dog, pig, etc) and the word "bye."
For twelve to eighteen month babies, explore one of their favorite times, bathtime, with cute felt-type pictures and rhyming text in Splish-Splash.
For the year-and-a-half plus child, Who Am I? is a delightful book that has two hand holds on either side and opens up to give Mommy a place to peek through as she's reading. Kyle also enjoyed holding this book up and "reading" each page as he made the animal sound and asked me, "Who am I?" Feet Are Neat reminds me a lot of Dr. Seuss with rhyming text that teaches concepts such as opposites (fast and slow feet) and colors (red and green feet, making paint footprints), and numbers (two feet and ten toes).
I cannot recommend Begin Smart Books more highly for your own baby or as a useful and fun baby shower or first birthday (or Christmas!) gift.

One reader (U.S. addresses only) will receive a few Begin Smart books (NOT all the ones listed here). Leave a comment if you want to win, and we will announce the winner in next week's column (on December 22).
Please see our site's Terms and Conditions of Use for a complete list of our Contest and Giveaway Rules. This promotion is void where prohibited.
The winner of the signed copy of Matrimony is #13 lifeasamama.