This post may contain affiliate links. Read my disclosure policy here.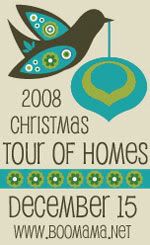 In the land of blogs, at Christmas Time we all pull up our browsers and gather at BooMama's for her annual Christmas Tour.
We sip our eggnog, meet new friends and admire each others' trimmings — all thanks to our wonderful, gracious hostess, the lovely Miss BooMama.
Christmas can sneak up on us sometimes. Susan is tonight just scrambling to get her tree decorated and her stockings in place.
The first year of BooMama's Christmas Tour, I brought you the scene from my house. Last year, Susan shared the decorations at her house.
This year, I was stumped – what to show you? But since Susan didn't make it in time, I will share the scene of my tree, lit up at night.
Thanks so much for stopping by and have a Merry Christmas Tour!!!