This post may contain affiliate links. Read my disclosure policy here.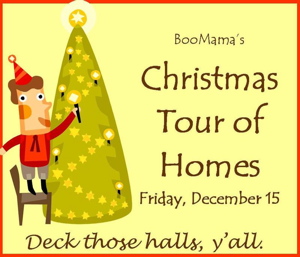 Merry Christmas – Come On In!
It seems like such a short time ago we all visited each other for Boomama's first tour – but here it is – party time again! I am just thrilled to have you here and I look forward to dropping by your place and seeing all your Christmas decor.

I will keep this tour short – I know you have so many houses to visit.

This little tree greets you at our front door. According to Jackson, it is the "Mommy" tree. I love the little angel on top. (She is holding a light, so in the photo her face doesn't show very well.) When I was sick years ago, I had a little Christmas tree in my bedroom with this angel on top.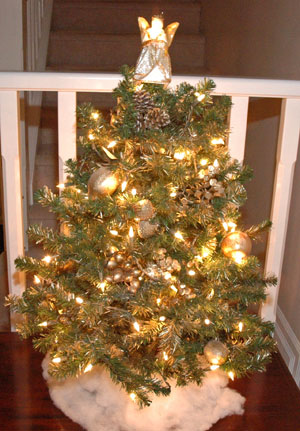 Next we have Jackson's tree. He claimed it as his a couple years ago – since it is the "baby" tree. (Now I am sure he considers it the "little boy" tree.) Gotta love the angel on top – classic Sunday School craft – an angel made from a paper cup! I bought this reindeer a couple years ago when Jackson was obsessed with driving around looking at all the reindeer on people's lawns. He was thrilled when I brought this home for him. I think it is so cute and I love the sparkles that shimmer in the lights.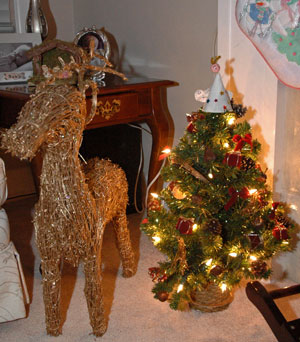 This is a tiny nativity scene that Jackson's Sunday School teachers gave him last year. Isn't it sweet? Even dollar store treasures can be precious to a child.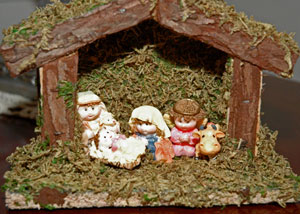 I love these angels – they are my mom's.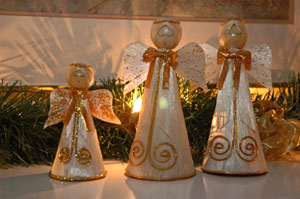 And here is the full scene – complete with the "Daddy" tree! The pink stocking is for Julia. Santa visits her here so the kids can share the fun Christmas morning.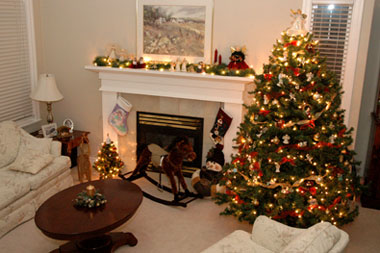 Thank you so much for coming and I will be over just as soon as I can!