This post may contain affiliate links. Read my disclosure policy here.
BooMama's decking the halls and so is the rest of the Mommy Bloggin' world. We couldn't risk being the Kranks of the blogosphere, and we really want to help bring lots of guests to all of the great parties you all are throwing… so we're joining in the fun… as much as we can…
As we've mentioned in posts gone by, Janice and I, along with our workaholic mom, Joan, live crazy busy lives as work-at-home moms running two online stores and of course 5 Minutes for Mom. Well Christmas for us goes beyond crazy as our two stores are TOY STORES! And yes… that means all night order processing and the most unbalanced living you've seen this side of Wall Street.
As I type, our just-turned 67 year old mother is spending her birthday doing her fourth all-nighter in the last 10 days.
I know… I know… it's insane and beyond awful. We feel so guilty that she is working so hard, but these babies of ours keep us so busy with their version of all-nighters.
(Right now it is 4:30 am and Sophia has just finally stopped fussing and gone to sleep in her crib. Scratch that… Now it's 4:45 am… and I just got back from putting Julia back to bed after a far too routine night waking.)
Our mom is a crazy workaholic, and she can't bear saying no to customers and refuses to let any toys miss the big day. I'm constantly begging her to stop taking orders and for the last week I keep sending customers to our competitors. Yes, that's crazy too I know…
We've hired a couple neighborhood moms to help, but it still hasn't relieved my mom of enough workload.
So, we need to beg your kindest pardons as we won't be able to attend your many fabulous festive get-togethers. Janice and I need to spend every extra minute we have helping my mom get through this last week of Christmas crunch-time.
As for me, I'm quickly finishing this post and going to get a few hours of sleep so that I can take over answering the phones tomorrow.
But before I go, let me take you on our tour…
Last year, for Boomama's Christmas Tour, Janice posted her decorations. So this year was my turn.
But first, Jackson and Olivia say hello from their house:
My house is a small town house – so there isn't too much to show you. We are really crammed in here as we have the office for our business in my basement. But we are happy and cozy.
Julia loves the Christmas dress Janice bought her. How cute is she?!?
Getting a shot of a two year old and a two month old is not easy. But I love this one of Julia and Sophia:
Here are some of our favorite decorations:
And here is our tree: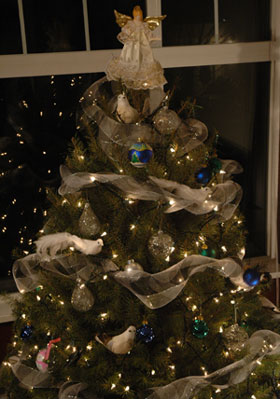 Merry Christmas to you all and we hope you have a wonderful time touring…