This post may contain affiliate links. Read my disclosure policy here.
Its that time of the year.
Winter.
Cold and flu.
It seems like everyone I know right now is not only sick, but so are their kids. Currently, I have a husband and three kids who are sick with a cold. My boys missed school at the end of last week. They received their flu shots, but that doesn't help when you get hit with a whopper of a cold and cough.
Right now its all I can do not to get sick too. Once the mom goes down — watch out! It's not long after that chaos hits. I am hanging in there so far,  so I couldn't have been happier when a 2 month supply of Ultra Immune arrived this past week with my name on it to review. We are also going to be doing a giveaway for some as well (more information about that in a bit).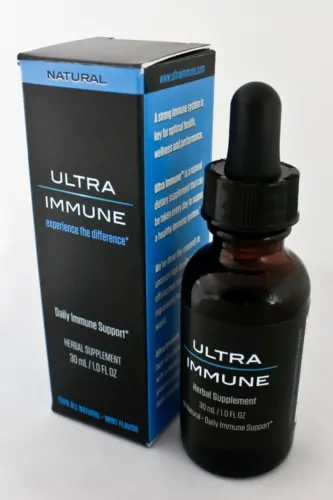 What is Ultra Immune?
Ultra Immune is a mint flavored immune supplement that can be taken twice daily.
About Ultra Immune
 Ultra Immune combines the best in Eastern and Western philosophies, crosses centuries of practical use and focuses exclusively on well-researched and regarded herbal and botanical extracts. They combined 10 key ingredients to make the herbal supplement and it is not only 100% all natural whole food based, but vegan too. Also alcohol, gluten and preservative free.
I love their website. Pick a category and they will tell you why their product is for you. Are you:
Me? I'm totally the Supermom. (Or maybe I should say trying to be…) And like I said, my supply could not have come at a better time. While I haven't been on Ultra Immune that long yet, I can tell you that as of right now, I am still feeling good — surrounded by sick family and all.
A one month supply of Ultra Immune retails for just $36 and can be purchased directly through their website.
You can also catch up with Ultra Immune on Facebook.
Enter to Win
One 5 Minutes for Mom reader will be getting a 2 bottle supply of Ultra Immune to use! To enter the giveaway, share with us your secret tip to staying well when everyone else around you is feeling poorly.
This giveaway will end on January 30th. A winner will be chosen and announced in our Around the Blogosphere post on the following Sunday.
Disclosure: I was sent product to use so that I could write my review. All opinions are my own.