This post may contain affiliate links. Read my disclosure policy here.
Pin It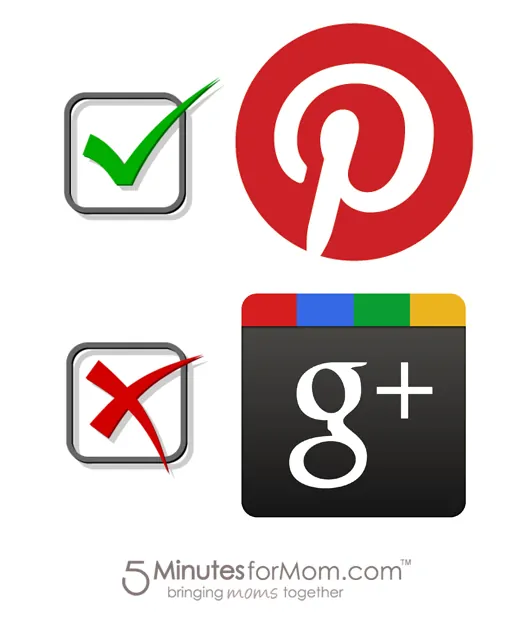 Google+ entered the social media space with huge expectations and lots of media attention.
Pinterest quietly launched in March 2010 and is still invitation-only. But it has been steadily stealing and holding the attention of mom bloggers and social media lovers.
(If you want an invitation to start using Pinterest, just leave us a comment and we'll send you an invite.)
I bet every person reading this knows exactly what Google+ is and probably has an account there but doesn't use it very much.
On the other hand, some may not even know about Pinterest.
But, my guess is the women who have have discovered Pinterest spend much more time there than they do at Google+. Especially the mom bloggers.
Sure Google+ may have techies and social media gurus regularly posting and organizing their relationships into circles of influence, but I've noticed that most of my mom blogging friends aren't nearly as active on Google+ as they are on their trusted old Facebook and their new love Pinterest.
What Is Pinterest?
Pinterest is an "online pinboard to organize and share things you love" and I believe it is revolutionizing web browsing. It is about finding and sharing truly good content.
Users often say they find Pinterest addictive (in a good way). It is wonderfully addictive as finding inspiration and learning should be. It's not based on how many links a site managed to get to optimize for Google to give them a top spot. A brand new site that has a clever idea, a stunning photo or a helpful tutorial can quickly spread and reach countless readers.
Why Is Pinterest Rocking Social Media?
If content is king, Pinterest is his kingdom.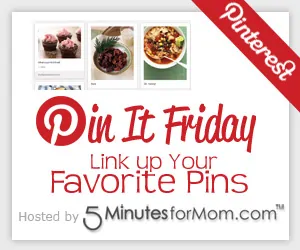 To get started with Pinterest, you don't have to sort and organize everyone you know into circles.
It's helpful to start following a group of people with similar interests, but once you've got a base to get going, you'll naturally start following more pinners based on what pins you like. If you like a pin, chances are you'll like other content that pinner shares, so you simply click follow on her username.
Start here and follow these active pinners. Then weekly find more favorite pins at Pin It Friday.
It's fast. I love how fast content browsing is with Pinterest. The visual nature of the site means you can take in what's on a board incredibly quickly and click through to the sites that interest you. With a quick click you can "Like" or "Repin" and save the link in a logical place where you can find it again.
You're effortlessly organizing content because it's visual and it doesn't feel like a chore. You don't have to type in a set of tags, you just "pin it" on a board that makes sense to you.
Everyone's Talking…
Pinterest ranked #9 and Google+ ranked #10, in the Hitwise Social Networking & Forums category in the U.S. during the week ending Dec. 17, 2011.
Search Engine Watch explains "Pinterest content has something for everyone, but the site is dominated by images featuring home décor, crafts, fashion, and food. Not surprisingly, 58 percent of the visitors to the site in the 12 rolling weeks ending Dec. 17 were female and 59 percent were between the ages of 25 and 44."
Kelby Carr, founder of Type-A Parent and one of the most active moms across all social media platforms including Google+, also recognizes the power of Pinterest and recently announced she is writing the book Pinterest for Dummies.
I asked Kelby why she feels mom bloggers are so attracted to Pinterest…
"I think moms are flocking to Pinterest (despite so many existing social networks) because it ties into things we like to do and our habits.

Many of us like to tack things up on a board, stick up post-it notes and make lists, yes, but we also love to share ideas. We like to save snippets and inspiration for later when we have actual time to focus.

The Pinterest interface is also very appealing, as it is visually engaging and mesmerizing. I think many of us feel the impulse to load just a few more pins. Personally, I also love Google+ and I interact with quite a few moms there. I have noticed many moms are not nearly as active there as they are on Pinterest, however."
I am thrilled with the success of Pinterest. It's fresh, inspiring and bringing forth a new way to blog hop that helps you find truly valuable content online.
No I won't be deleting my Google+ account and I'll be trying to be more active there because I feel like I should… but I'll be spending much more time and having way more fun with Pinterest.
Written by Susan Carraretto, co-founder of 5 Minutes for Mom
I answer to the name Mommy Blogger, but prefer the term Mom Blogger.
Talk with me: @5minutesformom and Facebook.com/5minutesformom
Pin with me at http://pinterest.com/5minutesformom/