This post may contain affiliate links. Read my disclosure policy here.
Parenting lessons are all around us. Sometimes we might feel a little uncomfortable with the source, but that's when we really need to listen.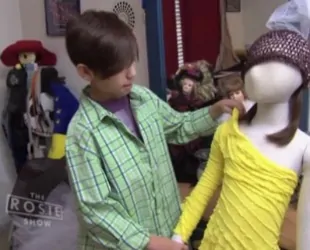 When I saw this 11 year old boy named Ben and his fabulous mother show the world how accepting and supportive all parents should be of their children, I almost cried.
Ben is an 11 year old aspiring fashion designer whose role model is the famous drag queen RuPaul. Ben and his mother shared their story on the Rosie Show and were surprised to meet RuPaul.
If only every child felt the love and support that Ben has been given from his family as he pursues his passion for costume design and his love for a reality TV show about Drag Queens.
I love that we are living in a time when Ben can feel open to express himself. While sadly he still is bullied at school, Ben is able to be a voice and example for change. I believe his courage and determination will help teach parents and children to celebrate their individuality.
But we're not there yet. Ben shouldn't be bullied for being different. No one should. As parents, we must take this mission seriously so that as our children grow they stop the pattern of bullying and discrimination. Our job is to model love and acceptance as we teach our children to respect EVERYONE for who they are.
Please watch and share this video clip from the Rosie Show.
Let's spread Ben's message of self confidence and let it inspire us all.
Written by Susan Carraretto, co-founder of the Mom Blog 5 Minutes for Mom.
Talk with me: @5minutesformom and Facebook.com/5minutesformom.