This post may contain affiliate links. Read my disclosure policy here.
January is the month that we all start thinking about eating a little more healthier — myself included. The reason that I have been focusing on eating better is because I have noticed that the older I get, the harder it is to lose weight. It doesn't help that I love food either!
I have changed a lot of what I eat and am eating healthier, but I still find myself over eating at times. That is one reason why I love the concept behind the 80 Bites Diet.
What I love most about the 80 Bites Diet is that it taught me that it wasn't about what I was eating, but about how much I was eating. For me, I found out I was eating a lot more that what I should have been and I needed to retrain my stomach.
The first week: The first week you spend just tracking how much you are eating. If you're like me, you will be in total shock!
Weeks 2-12: During these weeks 80 Bites helps to retrain how you are eating. Reminders are given to slow down when you eat, put your fork down, talk some, etc.
About the 80 Bites Diet
The science is straightforward. Overeating – even "healthy" foods – stretches your stomach. The more your stomach stretches, the hungrier you are. The hungrier you are, the more you eat. And no amount of calorie counting, low carb or low fat food can reverse this cycle.

The 80Bites Diet offers another solution: the ability to truly rewire your hunger cravings, once and for all. We will teach you how to eat in a way that reprograms your digestive system. 80 Bites a day is enough. Spend 12 weeks with us and see for yourself!
The 12 week program sells for $50.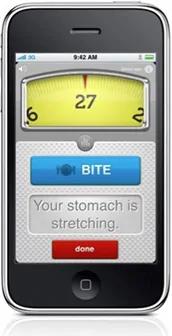 So how much weight did I lose? I wound up losing about 10 pounds just by retraining how I was eating. I can just imagine how much weight I can lose if I add exercise in the mix!
Disclosure: I was sent a code to try out the 80 Bites Diet and App. All opinions are my own.