This post may contain affiliate links. Read my disclosure policy here.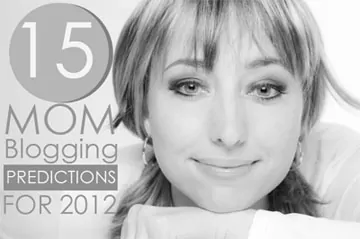 Jennifer James, founder of Mom Bloggers Club and Mom Blog Magazine, is one of the most influential leaders and innovators in the mom blogging community.
Both her insight and her hard work ethic, have kept her at the top of the social media mom world. This girl knows what she is doing and she will get it done!
(I actually have been known to refer to Jennifer James as the "Chris Brogan" of the mom blogger community.")
So every January, when Jennifer publishes her New Year Predictions for Mom Bloggers, people pay attention. And so they should.
Jennifer consistently works with companies on some of the most innovative campaigns in social media, for example Jennifer is working with the One Moms campaign, and uses her media and marketing savvy to ensure that she is ahead of social media trends.
Jennifer is both watching and defining the social media mom landscape.
Jennifer makes 15 predictions in her Mom Blogging Predictions for 2012, including the influence and scope of mom bloggers in the upcoming presidential election and the Olympics and the rise of companies calling on mom bloggers for spokesperson jobs and commercial print ads.
Will Jennifer's predictions come true in 2012?
CONTINUE READING at BABBLE'S MOMCRUNCH…
If you found this post helpful, we would love it if you gave it a Stumble, Tweet or Facebook Like. Thanks so much! We really appreciate your support of 5 Minutes for Mom.
Written by Janice Croze, co-founder of 5 Minutes for Mom.
We want to get to know you better — Tweet with us: @5minutesformom, find us on Facebook: Facebook.com/5minutesformom, or join our newsletter list.