This post may contain affiliate links. Read my disclosure policy here.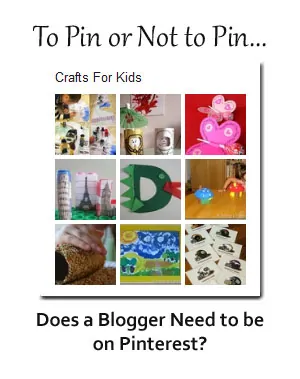 I know I am not alone. I know there are other overwhelmed bloggers out there who have watched the Pinterest explosion, overwhelmed not only about establishing a following on yet another social media platform, but about being sucked into a tempting time warp.
However, just like I resisted skinny jeans, afraid that I wouldn't be able to pull them off (pardon the pun,) and then wondered why it took me so long, I am finally giving in to Pinterest.
My twin sister and co-founder of 5 Minutes for Mom, Susan Carraretto, started a Pinterest account for us the past month as well — one that includes both of us as 5 Minutes for Mom. (You can follow us at http://pinterest.com/5minutesformom/) But while we both signed up several weeks ago, we are still trying to get a feel for it and are definitely not pinning experts yet.
But the other night, with a bowl of popcorn and Kelby Carr on Skype giving me a personal Pinterest tutorial, I made my first boards, did some re-pinning, and tried to move past my Pinterest hesitations.
But the question remains: DOES a Blogger Need to be on Pinterest?
Yes, I am giving into Pinterest. But should every blogger be on Pinterest? Why should a busy blogger add one more social platform to their crammed online schedule?
I asked four top bloggers who are Pinterest lovers about the benefits of Pinterest for bloggers. Does a blogger need to be on Pinterest? Here is what they told me:
Kelby Carr aka @TypeAMom
"I definitely believe bloggers benefit from being on Pinterest.
Besides being pretty, entertaining and mesmerizing, it also serves practical purposes. For one thing, it is great inspiration for blog post ideas (or even ideas for your life, from recipes and home renovation project ideas to craft DIYs and must-have gadgets).
Beyond that, it is proving to be a great traffic generator. Real Simple Magazine, for example, says it is driving more traffic to their site than Facebook, which is pretty impressive. (See this AdAge post about Real Simple Magazine's Pinterest traffic.)
Also, at least for now, Pinterest's links are dofollow, which means you will get Google juice (or credit for having inbound links) for any pins linking to your site. Pinterest is a PageRank 6 site, quite high for such a new site. That means those links are pretty high-impact.
In fact, your blog might already be pinned. You can find out by visiting pinterest.com/source/INSERTYOURURL.COM."
CONTINUE READING at BABBLE'S MOMCRUNCH…
If you found this post helpful, we would love it if you gave it a Stumble, Tweet or Facebook Like. Thanks so much! We really appreciate your support of 5 Minutes for Mom.
Written by Janice Croze, co-founder of 5 Minutes for Mom.
We want to get to know you better — Tweet with us: @5minutesformom, find us on Facebook: Facebook.com/5minutesformom, or join our newsletter list.