This post may contain affiliate links. Read my disclosure policy here.
My skin has been really giving me fits lately. It used to be soft and very youthful looking, but just in the last few months, it has taken on a dry tone and I am having a really difficult time keeping it refreshed and hydrated — no matter how much water I drink or how many different creams and lotions I smear on. Nothing has worked — up until now.
I was happy to try out the Artistry line of beauty products from Amway. One because I've always been curious about the Amway products ( I heard good things about them from some friends), and two — because I was desperate to try anything to see if I could get my skin back to its youthful looking appearance.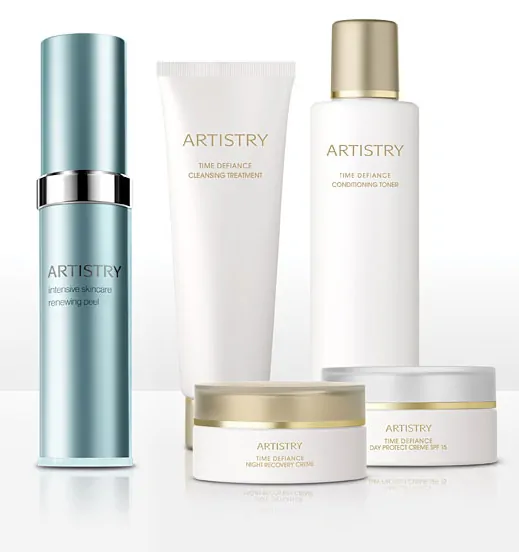 So far, I have noticed a very big difference in my skin. It no longer feels like sandpaper! I've been using the products for almost two weeks and the splotchiness on my cheeks has diminished and all the dry skin is now soft and supple once again.
I think the thing that I love most about the Artistry skin care line is that I can wash my face twice daily with it and it does not dry my skin out like other skin care lines that claim to make your skin feel softer or more youthful looking.
About the Artistry line
ARTISTRY Intensive Skincare Renewing Peel

The peel serves as an at-home alternative to a chemical peel and is appropriate for all skin types.
It's a targeted resurfacing treatment that helps skin's smoothness and softness with dryness and flakes virtually eliminated. Radiance is restored, and over time, fine lines and age spots begin to fade and skin becomes firmer-feeling with smaller-looking pores.

ARTISTRY TIME DEFIANCE Skincare System

Time Defiance improves your skin's firmness, smoothness and luminosity, and increases hydration by 181% by using smart technology to deliver extra hydration where your skin needs it most.
Time Defiance products are dermatologist approved and clinically proven to reduce signs of aging.

About Artistry
Artistry by Amway is among the world's top five largest-selling, premium skincare brands, offering unprecedented skin care solutions backed by dermatologist testing, advanced science, unparalleled proof of performance and personalized service unmatched by any beauty counter in the world. To learn more, we encourage you to find an Amway Independent Business Owner in your area or visit www.amway.com/artistry.