This post may contain affiliate links. Read my disclosure policy here.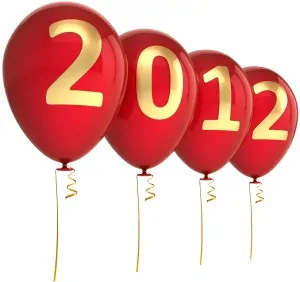 Do you make New Year's Resolutions?
Or do you set a list of goals you want to achieve in the upcoming year?
Perhaps you set one word for the year?
Or have past years' failures ruined your resolve and you now let the calendar switch over without any new intentions.
For most of my life I never bothered with New Year's Resolutions. It just seemed obvious that such a list would be easily tossed aside as I quickly broke my self-assigned rules.
But once I became a blogger and spent more time reading about other people's resolutions and newer goal setting ideas such as selecting a "word" for the year, I decided to rethink January as a time for a restart.
For 2009, I set a list of 5 goals or resolutions as some prefer to call them. As 2010 approached, I looked back at that list and decided to give myself a redo. And for 2011, I borrowed from Chris Brogan the idea of selecting Three Words to focus my intentions in the new year.
Now as 2012 comes upon us, I'm looking back over my words for 2011 and planning for 2012. I've decided to focus on one word for 2012…
One Word
My One Word for 2012 is "Grow".
2011 was a year of huge change in my personal and business life. 2012 will be a year of pushing forward and growing in my role as a single mom and as a business owner and blogger.
As I explained in my recent Momversation video, I have been thinking about resolutions and goals also from a "Mom" perspective. I shared in the video that as a goal in my parenting for the new year, I plan to focus on cooking and baking more healthy but still kid-friendly food from scratch for my girls. I feel that resolution fits nicely into my overall goal of Growth. I want to grow as a mother and I always feel badly that I don't cook and bake enough healthy foods for and with my girls.
What are your Resolutions/Goals/Words for 2012?
If you've blogged about your intentions for the New Year, add your link to the Linky below. Otherwise, share your resolutions or goals or words in a comment.
We'd love to hear what you will achieve in 2012.
Add Your Link Here
Here is a fun thumbnail linky:

And here is a basic linky if you prefer your linkies the good old fashioned way!

Written by Susan Carraretto, co-founder of the Mom Blog 5 Minutes for Mom.
Talk with me: @5minutesformom and Facebook.com/5minutesformom.