This post may contain affiliate links. Read my disclosure policy here.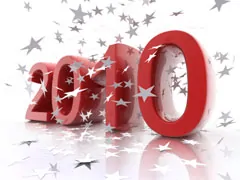 Okay, I just looked back at my New Years Resolution List for 2009 and well… can I just copy and paste the list and ask for a redo???
Sigh…
Here's my list from last year:
Enjoy each day and savor each moment with my girls.

(This is always my top goal in life. And I will say that I think I did a pretty good job of this in 2009. During the year, I decided to go offline on weekends and focus on family time. I'm going to continue this for 2010.)

Lose a few holiday pounds and get in shape.

(Okay, I think last January I did shed a few pounds, but over the fall I gained several more. Stopping nursing has been terrible for my waistline and January is the month I'm trimming it off. For. Sure.)

Organize and manage my projects more effectively.

(Ugh. I am still disorganized. I'm not even bothering to resolve to get more organized… INSTEAD, I'm focusing on finishing current projects and wrapping up loose ends everywhere.)

Take more video of my girls.

(Again, taking more video and photos is a big priority. Not only of my kids, but of me too. The last couple months I've hidden from the video camera and I've been terribly absent even from our own site Say It Face To Face. I've got to get my face in front of the camera again.)

Read and comment on more blogs.

(I'm constantly trying to do more blog commenting… I will continue to increase my commenting in 2010.)
Okay, so what about you???
Are you making any resolutions or goals or intentions for 2010? Did you make any in 2009 and if so, how did you do with those?
Link up and tell all!

Written by Susan, 5 Minutes for Mom co-founder
Have you subscribed to our RSS feed?
Tweet with me @5minutesformom and @susancarraretto.