This post may contain affiliate links. Read my disclosure policy here.

My children and I are huge fans of Charlie and Lola. In fact, it's one of the few children's shows that I actually enjoy sitting down and watching with them. My daughter and I also enjoy borrowing the Charlie and Lola books from our nearby library. If your children also love Charlie and Lola's adventures, then you will LOVE this giveaway.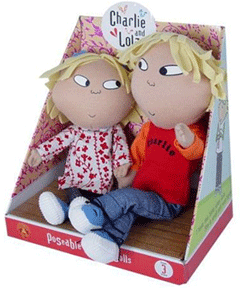 Kids Preferred has some Charlie and Lola fun for us to give away to one lucky reader. First we have the Talking Poseable Charlie and Lola Set, retail value $25.00.
Packaged in a reusable playscene, this set includes Charlie, standing 12 inches tall, and Lola, measuring 9.5 inches. Bend their arms and legs into any fun pose for hours of everso much fun.

Each speaks their signature opening line from their book, video and TV episode: "I have this little sister, Lola. She is small and very funny." Responds Lola, "I'm not small. I am BIG."
Also, we have one copy of My Very Busy Sticker Stories, retail value $5.99, to give away. Not only is it a fun story, but it is a super fun sticker book.
Each page takes us inside Lola's creative imagination as she cares for purple horses at the farm, cooks meals as an extremely busy chef, nurses Mr. Giraffe's sore neck and helps mermaids type letters.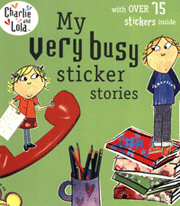 The book also allows your child to use their imagination as they use over 75 reusable stickers to help create each scene.
My daughter spent over two hours, in one sitting, playing with the sticker book, and since the stickers are reusable, it can be played with over and over again.
One lucky reader will receive both the Talking Poseable Charlie and Lola Set and the My Very Busy Sticker Stories book. They are also both being donated to our Under The Tree program.
Here's how to enter:
See our Christmas Giveaway 2008 post to read more about
participating in our Christmas Giveaway

Either link back to this post and include a Christmas Giveaway 2008 button in that post or on your sidebar, or link to the individual giveaways you choose to enter. We have a ton of different buttons and styles for you to choose from. Click here to get the button codes. (If you post and include the button, either in your post or on your sidebar, and link back here, you are good for all the giveaways. No more linking required.)
Please leave one comment below to enter this giveaway. You may earn additional entries for the following:
1. Subscribe to our Feed
2. Sign up for our Newsletter
If you are already subscribed and are on our newsletter list, you qualify for these two additional entries. Go ahead and leave your additional comments below.
As always, non bloggers are welcome to participate! We understand you can't link – but please spread the word to your friends via facebook, twitter, etc.
Entries are open from Friday, November 7th thru Friday, November 28th at 12pm EST.
Our winner will be drawn randomly and we will announce the winner Monday, December 1st. Please make sure to check our site and your email address to see if you have won a prize. We must receive your reply within 5 business days. (If you want your prize to arrive in time — the sooner we hear from you, the better!)
This contest is open to US shipping addresses only. Due to legal restrictions, this promotion is not available in Arizona.
Please see our site's Terms and Conditions of Use for a complete list of our Contest and Giveaway Rules.