This post may contain affiliate links. Read my disclosure policy here.
My sponsor has one son and two daughters. She loves me. She writes me many letters. I love her very much.

–Evry, a twelve-year-old girl, in answer to the question "What can you tell us about your sponsor?"
Julia (below right), 21, is a member of Compassion's Leadership Development Program. When asked her sponsor, she said that she thought of Roger from New Zealand as a superhero of the earth because of all he had done for her in the twelve years he sponsored her. About the letters, she said: "He told me he was praying for me. He told me about the sports he liked, and one time when I was really young, but he even asked my advice when he was considering getting married." And her answer? "If she's a good Christian woman — yes! yes!" Julia encouraged him.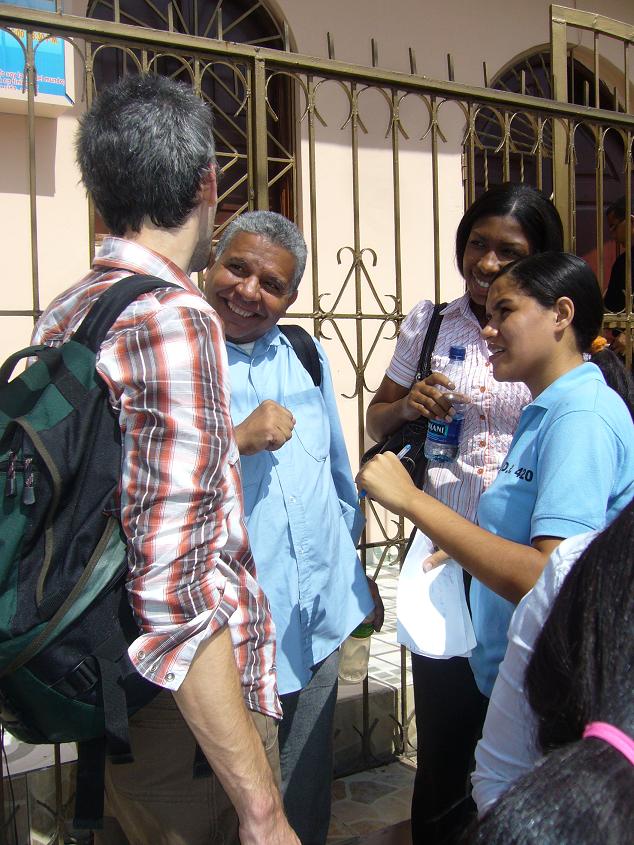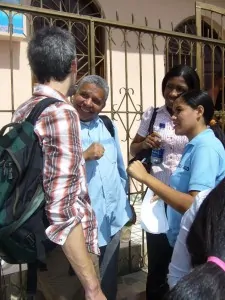 When Julia's mother was asked about the difference that child sponsorship had made in the lives of her children, she got tears in her eyes "We were limited financially and it helped so much. If you are a sponsor, don't get too tired, because it is very worthy."
Julia is a vivacious young woman who claims that she was shy before her personality was shaped from the four areas that Compassion offers help:
Physical
Socio-Emotional
Academic
Spiritual
None of us who met her today have any doubts that she will continue to lead a happy, fulfilled, and useful life.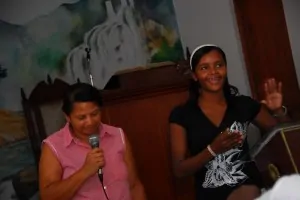 Mariolvis (above right) is 23 years-old. She has been a part of Compassion's sponsorship program since she was 5, and now she is being sent to college through the Leadership Development Program. We asked her if she had ever met her sponsor, and she said with a big smile, "No, but it's a dream that I still have." When asked what she would say to him, she said
I will never forget you, and what you've done for me. I still read the letters and look at the pictures you sent me. I love you very much, and don't have words to express my thanks.
Here's the thing about Compassion. They aren't just asking you to give up two lattes a week so that a child can eat, get medical treatment, and a better education. They're asking for that $32 AND a relationship.
Make no mistake, they do need the money to make a difference in the lives of these children. But just as Compassion focuses on the whole child, not just the physical needs of poverty, I think that one of the purposes of a personal sponsorship is to allow you as a sponsor to get involved in that child's life through reading their letters and writing them back.
Each child only has one sponsor. She knows the sponsor's name. She appreciates the opportunities that basic sponsorship gives her, but the children who are sponsored, yet never receive letters, miss out on that.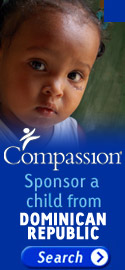 After meeting the incredible young women today, it's clear that those sponsors who not only give money but also take the time to encourage their sponsored child, will see their efforts bear much fruit. If you are a sponsor and haven't written a letter to that child, you are both missing out.
Put her picture on your refrigerator, write her letters and let yourself get to know her personally. Compassion even schedules visits to the Compassion projects, and notifies the sponsors when they occur, so if you'd like to let her put her a face to the name, you can do that too.
Will you sponsor a child, or perhaps sponsor an additional child? I love the people I've met here in the Dominican Republic — both the children, and the workers. You can go directly to the Dominican Republic page by clicking on the banner, or search by country, sex, age, and special needs at the Compassion main page.
Visit my Compassion Trip Page to see all of my posts from my journey and go to CompassionBloggers.com to read posts from all the bloggers on this trip.