This post may contain affiliate links. Read my disclosure policy here.
Guest contributor, Andrea Peskind Katz is not a parenting expert. Far from it, she says! Like all of you, she is just trying to figure out this parenting thing as life happens.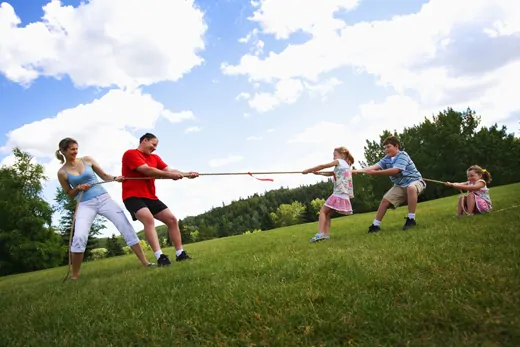 Adventure Camp with a bunch of 10-11 year olds
This week, I had the opportunity to spend 2.5 days at Adventure Camp with my twin 5th grade girls. I slept in a spartan (and I mean so totally spartan) cabin with one other mom and 12 girls, aged 10 and 11. I was lucky in that my campers were very sweet girls – we had no tears or whining and everyone had fun.
My group of 12 played cards, read stories and did a talent show – they acted like 10 and 11 year olds! Of the 4 girls cabins, 3 were just like mine. And then there was that other cabin….
"Designer Jean Mom"
During free time, the moms would hang out at the picnic tables in front of the cabins. One of the moms came to camp in her designer skinny jeans determined to be the "fun mom." Please note that this is a very nice successful woman who I like (even though she is so skinny).
We were asked not to bring bandanas or shirts for the girls and, you guessed it, designer jean mom did. What she didn't realize or wouldn't acknowledge before camp was that her cabin included the "fast girls."
Yes, shockingly (or shocking to me), we have some boy crazy over-the-top alpha females in 5th grade – how in the world did that happen? The queen bee of the alpha females prances around like she is 16 – flirting, trying for attention, and generally ignoring all parental reprimands. She wore pleather, danced around unclothed in front of the window and led her pack in running to the boys' cabins. For reasons I completely don't understand, many of the other girls follow her around and do what she says.
Over the course of the camp, designer jean mom clearly had an epiphany. It was funny to watch! She went from fun mom to shocked mom to reprimanding mom. I think all of the moms there realized that we have precious little time left of sweet little girls and that this puberty thing is coming fast.
Moral of the story – we've all heard it time and time again – our job is the be the parent, not the friend. We all need to remember this!
Written by Andrea Peskind Katz, who runs Great Thoughts, a lifestyle blog featuring books and travel. You can also find Andrea on her Great Thoughts Facebook Page and as @gr8thoughts on twitter.
Image from 123RF Stock Photos