This post may contain affiliate links. Read my disclosure policy here.
When it comes to editing a video, I shy away. From figuring out the best computer to run a quick edit program to selecting and investing in an editing software program to making transitions and overlays, video editing has always been such a time consuming hassle.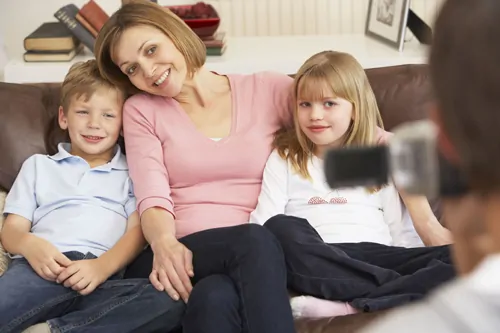 Meanwhile, I love vlogging. I find creating a video about something I'm passionate about is so much simpler when I can just talk with my audience. I adore sharing favorite tips and techniques via video–fashion hauls, organization tips… it's all so simple on video.
Simple, but stressful. So I've opted, for quite some time, to upload unedited vlogs. Which are cute, but they look like… well, unedited video.
Last month, I was offered the opportunity to review WeVideo's video editing service. What makes this online application successful and simple is that it's online, in a cloud, and it's the most basic of basic editors: it was created for school children! And if they can do it… we can learn it!
WeVideo's highlights:
Membership at WeVideo is free, although there are paid upgrades available as well. (Free membership includes 1 gig of space.) This means that you don't have to invest in one of those expensive software programs;

Easy to use… it was developed as a learning tool for children. After trying it out, I can attest that it's simple. It took a little while to get used to, but once I got rolling, it was very easy to put together today's video;

Fast. I mean really, really fast. WeVideo is hosted online in a cloud and once you upload to your folder, it is so fast to add elements to your videos. Music, images, graphics… they're all speedy. All you have to do is drag, drop and shift around your elements to make the video just what you want;

Safe. Everything you create and upload to WeVideo is stored in a password protected account that only you have access to, unless you choose to share it;

Low-impact on your computer. I swear, I can't add one more thing to my computer or the thing is going to die. So the fact that there is absolutely no downloading to my computer, nor any storage on my computer makes it delightful;

Transient. I usually use my netbook to work on video because the sound system is better. But today, as I completed my video on WeVideo, I was at a friend's house borrowing her PC. Because I had already uploaded my images and videos from my computer at home, all I had to do was log in from her computer. I could access and edit it all from there and use WeVideo just as flawlessly. (Actually, it was even easier on her computer because she had a bigger screen);

Collaborative. While your uploads are private, you can invite friends or family in to co-edit a piece. I love this idea for a Grandparent gift. Your sister in Texas and your brother in Maine can upload recent pictures to your shared folder and you can all edit one video together. Or create several versions using the same images, which could be great opportunities for work-based videos and kids' projects;

Extensive upgrades available. With a variety of professional upgrades like soundtracks, transitions and picture inside a picture, as well as graphics, you're garage edit will soon look professional!

Sharing is simple. In just two steps, I linked my YouTube account and uploaded the video. You can also link twitter, Facebook and Vimeo.
What we created:
After uploading the images and video, the video I created took less than an hour. We're working on a home renovation which I've been covering on my personal website. Thanks to WeVideo, it was so simple to create this video which summarizes the changes in our family room.
Enter to win!
WeVideo is giving away two (2) one-year PLUS subscriptions to the video editing service. A Plus membership is valued at $83.88 (on sale until December 31, 2011 for $49.99) and includes:
10 GB storage
480p resolution
60 export minutes per month
Export to Facebook, YouTube, Vimeo and Twitter
10 invites per project
390 licensed music titles
Local downloads
No watermark
To enter to win one of the one-year PLUS subscriptions to WeVideo, leave a comment letting us know what kinds of videos YOU would like to edit.
Written by contributing writer Julie Meyers Pron. Julie is a parenting and education writer, using her experiences as a teacher and parent as inspiration for her daily posts. A mother of 3 children (ages 2, 6 and 8), a PTO Director and a former MOMS Club President and Vice President Julie shares her stories as well as tips to help parents find the precious in parenting at Just Precious. To learn more about Julie, visit her About.Me page. You can also find her tweeting at @justprecious and on her facebook page.

Disclosure: I received a video camera to facilitate my review as well as a 6 month subscription to WeVideo to try out their service. The thoughts and experiences included in this review are my own.

Family video image from 123RF Stock Photos