This post may contain affiliate links. Read my disclosure policy here.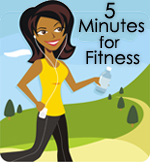 Even short bursts of exercise can do wonders for your mood and energy level. If you are short on energy and short on time, here is a trick that helps me squeeze fitness into my day.
I set my watch (or you can use a kitchen timer) to beep every 30 minutes. At that point, I do either 10 push ups, lunges, jumping jacks, or squats. (rotating the exercises throughout the day). I let my kids know the "drill" and they always remind me to get up and move when my watch goes off.
"Let's exercise Mommy!"
We have a lot of fun doing our exercises together and over the course of a day I am able to get a solid workout.
So set a timer and get moving gang!
This column is hosted by Lisa. She can be found doing squats and lunges over at Workout Mommy.