This post may contain affiliate links. Read my disclosure policy here.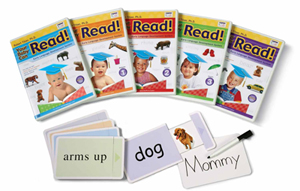 When I first heard about the Your Baby Can Read series, I was immediately intrigued — and a bit skeptical. How on earth can someone teach a baby to read?!?
But since the program was developed by a prominent professor and expert infant researcher, I decided it was worth some investigation.
When Dr. Titzer's daughter Aleka was born, he developed the program, "Your Baby Can Read!" to give her an early start in reading skills.
The results were incredible! By her first birthday, she could read more than 100 words. By age two Aleka regularly read 10-20 books a day and, by age four, she could read at the 11th grade level phonetically, on par with a 16-year-old.
"The results were so dramatic, I knew I had to bring this system to all families who want to give their kids a head start on literacy," says Dr. Titzer.
Based on years of Ph.D. research in Human Performance at Indiana University, his unique program is a natural method of teaching infants and toddlers the written word at the same time they are learning the spoken word.
Designed for children ages 3 months to 5 years, "Your Baby Can Read!" includes five easy-to-use, interactive DVDs, five double-sided interactive sliding word and picture cards, one wipe-clean word card and one erasable non-toxic pen.
"YOUR BABY CAN READ!" FACTS AT A GLANCE
Teaches children ages 3 months to 5 years to read through interactive, multi-sensory techniques
Developed by Dr. Robert Titzer, prominent professor and expert infant researcher
Teaches the written word in conjunction with the spoken word
Children learn phonics naturally
Amazing results proven worldwide
Easy-to-use and fun for babies
Here is a demo video of little Tara, 14 months old, reading thanks to Your Baby Can Read.
When my babies are under two, I am very careful about what they watch on TV and for how long.
But, during late afternoon fussy time, I have been reaching for Your Baby Can Read.
When it comes on Sophia is immediately drawn in.
Her face lights up in recognition when they sing "Head and Shoulders, Knees and Toes" and the words show on the screen.
Some days Julia fusses that she wants to watch one of 'her' shows, but I tell her that it's Sophia's turn for the TV and that Sophia wants to learn to read.
The result is Julia, Sophia and I sit and play while we watch the video. We have a great time together.
We've worked through two of the videos, but we haven't followed the program exactly… so while I can't say that one year old Sophia has 'learned to read' YET from these viewings, she definitely engages and concentrates on what she is seeing.
And I think it really is helping three year old Julia learn to read!
I am impressed with the program and I do recommend the videos.
The program creator does not pretend that these videos will have your baby reading by next month. Clearly it is a very slow process. But it is exciting to see what a baby's brain can process.
And whether my children become early readers or not, I think what is most important when teaching our children is to remember to have fun and cherish our time together.
We are enjoying the videos and we will continue to work through the program. I'm going to focus on having fun with flashcards and increasing both girls' exposure to single words.
I love to read and I think Your Baby Can Read is a great way to introduce my girls to the fun and joy of reading.
If you would like to win a 5 DVD Your Baby Can Read set, please leave a comment below. We have 1 set to give away to a lucky reader. This giveaway is open to both US and Canadian shipping addresses. We will draw our winner on Saturday, November 15th.