This post may contain affiliate links. Read my disclosure policy here.
What child doesn't love to have Mom or Dad read a book to them? 5 Minutes for Mom contributing reviewer, Michelle's, kids certainly love it. Especially when their own name appears in the book…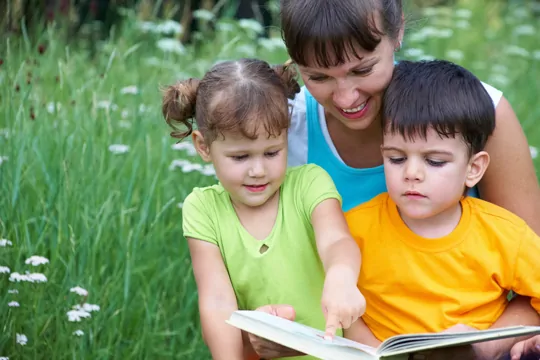 We are huge book lovers around here. We read all the time, and that includes the wee ones. I encourage that whenever I can. We make weekly trips to the library, and we have a huge bookshelf filled with their books. I've even passed along some of my books that I grew up reading. They love looking at the books I have that were personalized, and I've purchased a few for them, as well. Those are the books they read over and over again.
"I'm In It!" eBooks for kids
I recently had the opportunity to create a personalized book for Mister Man that was an ebook, which was new for me. I love that it's instantaneous – as soon as you complete your purchase, you download it and voila! I'm In It Books allows you to download your book to a NookColor, iPhone, iPad, Android, Mac or PC. If the book isn't for your child, you can also send it as a gift by simply entering the recipient's email address for that person to download.
There are currently five books available from The Yeti, where you have to save your town from the Yeti, to First Day of School where the child attends an underwater school for the first time.
Each book costs only $3.99, with an additional $1 if you want to customize the character to look more like your child. The customization isn't worth it in my opinion, as the choices are very limited and don't do much to look more like your own child – and for 25 percent of the cost of the book, I'd rather buy an additional book. That said, I really like that most of the books are available in Spanish and English, with Captain Boon and the Neptunians also available in French. Little Miss is in a Spanish school, and we're always struggling to find more and new books in Spanish for her to read, so this is a great way to do something special for her, too.
It's easy to create a personalized book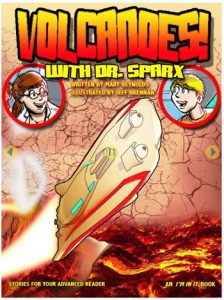 The process of creating the book was easy, as well. You simply choose the book you want and the language, then enter information about the child star – name, nickname, gender, and any personal message up to 250 characters that you want at the start of the book. There is a function to preview the personal message and the book itself, but though I tried repeatedly, I couldn't get anything but a blank page to load. Fortunately my book turned out well, so not previewing it was not an issue.
Both Mister Man and Little Miss loved the book I downloaded – Volcanoes with Dr. Sparx!. The book contained a lot of factual information about volcanoes, although Mister Man claimed he already knew everything in it except that the lava that comes from underwater volcanoes turns into lava pillows. He's read the book multiple times and now asks to read it on my iPad when we're at Little Miss's gymnastics instead of wanting to play a game. I'm all for that! Even though this was a "boy" book, Little Miss enjoyed reading it, as well. She wants to know when she gets a book starring herself.
Enter to win your own personalized ebook!
"I'm In It!" books has given us an ebook to give away. The winner will receive a book from the I'm In It catalog to personalize for a child. All you need to do to enter is leave a comment below telling me what your favorite book was growing up.
This giveaway will end on November 1, 2011 at midnight ET and a winner will be chosen at random and announced the following Sunday in the weekly Around The Blogosphere. Please see our site's terms and conditions for more information.
Disclosure: I received an ebook for purposes of this review. I was also compensated for writing this review, but all thoughts and opinions remain my own.

Written by 5 Minutes for Mom contributing reviewer, Michelle. You can find her with her nose stuck in a book somewhere or possibly blogging at Honest & Truly! or hanging out on Twitter @honestandtruly.
Stock photo of mother and children reading from 123RF Stock Photos.