This post may contain affiliate links. Read my disclosure policy here.
Toys. I remember being in love with my dolls and make-believe toys when I was growing up. I have to admit…now that I am a mom, there's still a part of me that loves to sit down and play make-believe with my kids.
There's something magical about imagining, and something even more magical (for boys and girls alike) about miniature versions of things they already love, like animals and babies and vehicles.
When a huge package arrived last month, I think I was just as excited to open the packages inside as my kids were. Yes, it was like Christmas morning in the early Fall.
Inside the box was an assortment of toys from Hasbro that are all new for Fall 2011. Here's a peek at what was in the box (and more importantly, what could be coming to YOUR house if you enter the giveaway below).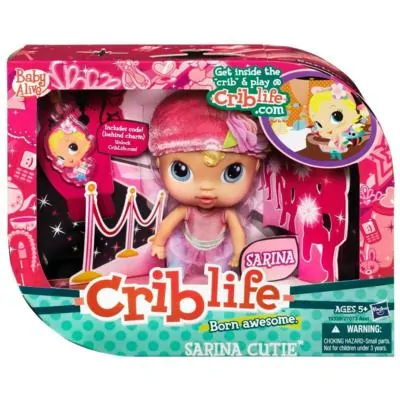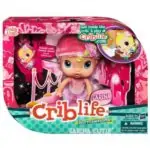 (HASBRO/Ages 5 & up/Approx. Retail Price $14.99)
We received one of the six CRIB LIFE CUTIES characters: girly-girl SARINA CUTIE. Each CRIB LIFE doll has her own "personality" (sporty LULU LAKE, free spirit MAKAYLA SONG, music-loving ELLA SONG, tech-savvy LILY SWEET, and confident HAILEY HULA), but most importantly (for my daughter) each doll comes with a key chain and charm with a special online code that unlocks a CRIB LIFE character's world with games, videos, and fun at CribLife.com (website available for a limited time only).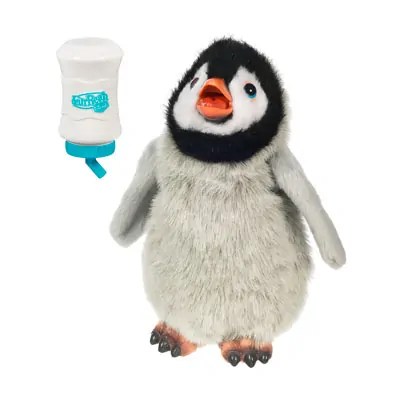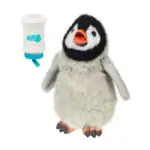 (HASBRO/Ages 4 years & up/Approx. Retail Price: $14.99)
My kids already love taking care of their newborn FURREAL pig (the oinking is the cutest thing ever!) and so they were extremely excited to see a brand new baby Penguin in our box. Of all the toys we received the baby penguin was the most popular (even my 12 year old daughter tried to claim it as hers). This year, the FURREAL FRIENDS NEWBORNS family includes a PENGUIN, BIRD, CHIMP, BEAR CUB, PUPPY, and KITTEN. I know exactly what my monkey-loving 6 year old is going to be getting for Christmas this year…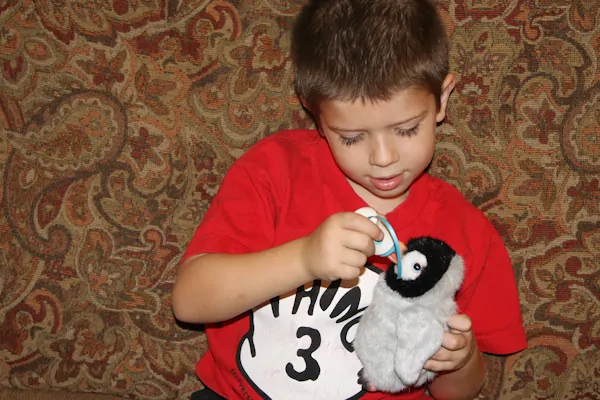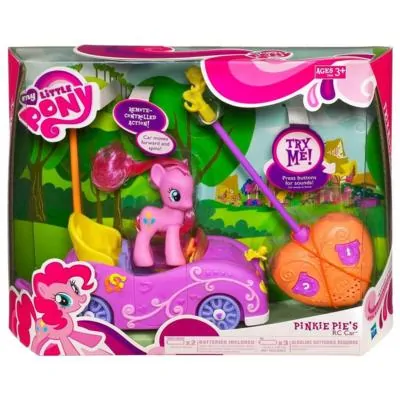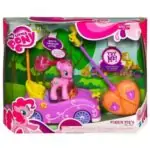 (HASBRO/Ages 3 & up/Approx. Retail Price $4.99/$19.99)
We have had quite a collection of My Little Pony dolls over the years (with 3 girls, it was inevitable) and Reese was excited to add a few new ponies to her collection. Eighteen new ponies have been introduced this year, and they are as cute as ever! The most popular part of the My Little Ponies treat was definitely the Remote Control Car. Even six year old AJ didn't mind the fact that the car was pink and purple. I caught him playing with it several times!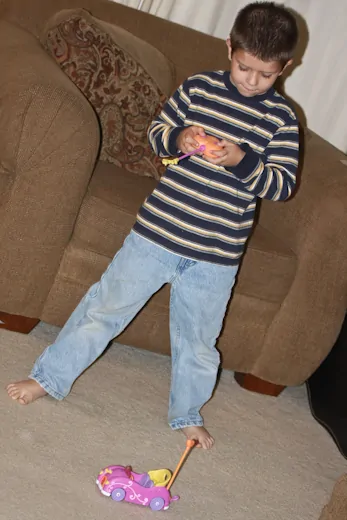 By the way – A new season of "My Little Pony – Friendship is Magic," has begun for the Fall season. You can find it Saturdays at 10 AM EST on the Hub Television Network.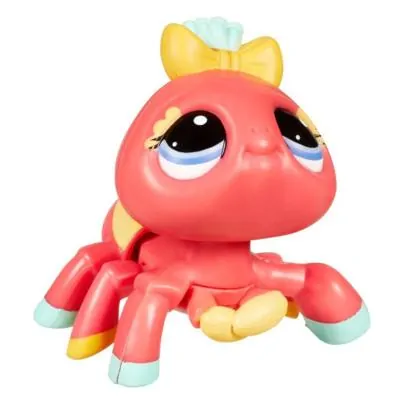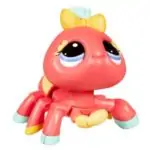 (HASBRO/Ages 4 & up/Approx. Retail Price $7.99)
This was my favorite toy of the bunch! I normally don't love spiders, but this little pink and yellow walking spider was way more cute than creepy. Whenever we set the little spider down to crawl, someone in the room would inevitably burst into giggles. I LOVE these new Walkables.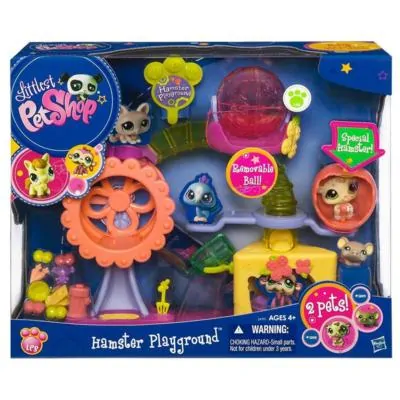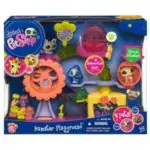 (HASBRO/Ages 4 & up/Approx. Retail Price $19.99)
This hamster playground was a huge hit with my kids, especially since we already had a set of three Littlest Petshop hamster babies. The playground has places for the little pets to eat, rest, play, and exercise. And the fact that it has little water bottles and "food" for each of the animals was fun for Reese who loves tiny details.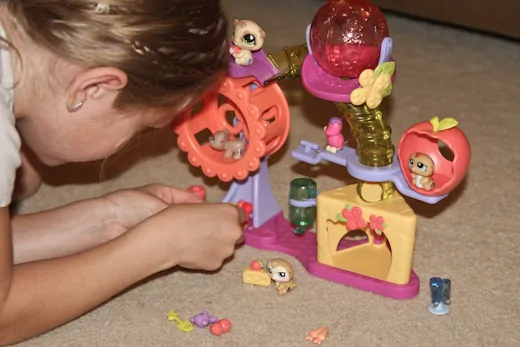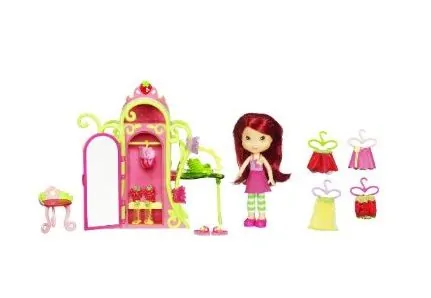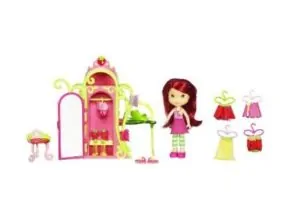 (HASBRO/Ages 4 & up/Approx. Retail Price $19.99)
Just catching the scent of Strawberry Shortcake through the box brought a rush of memories flooding to the surface. I was a big Strawberry Shortcake fan when I was younger. It amazed me that she could stay so sweet-smelling for so long! This new Strawberry Shortcake doll comes with a ton of styling accessories so that Reese can changes her outfits, shoes, or hair. Strawberry comes with her own vanity to hold all of her clothes and accessories along with (best of all!) miniature hangers for the outfits. Yes, we are all about the little details.
Enter to Win

We're giving away a huge prize pack that includes an assortment of products from Littlest Pet Shop, Strawberry Shortcake, My Little Pony, and Crib Life. (1-2 products from each brand).

To enter to win this amazing prize from Hasbro, just tell us which of these toys YOU (I mean your kids…) would love to play with.

This giveaway will end on November 1, 2011 at midnight ET and a winner will be chosen at random and announced the following Sunday in the weekly Around The Blogosphere. Please see our site's terms and conditions for more information.
Written by 5 Minutes for Mom managing editor Lolli. You can find me blogging at Better in Bulk and tweeting at @1momof5.
Disclosure: I received the toys listed above to review and test out, but all thoughts and opinions remain my own.