This post may contain affiliate links. Read my disclosure policy here.
It is getting better.
Julia's extreme preschool separation anxiety is easing.
Each class she cries less and less. During her last class she only cried for a few minutes when I left and she only asked the teacher once to look through the window to see me.
Her sincere sadness at the start of class still tears holes in my heart, but they are quickly repaired as I peek through the window and see her painting and playing with her friends.
I don't mind my hard seat on the hallway floor, it gives me time to write and to overhear my daughter growing up.
Here's my view peering through the tiny opening in the classroom door's window…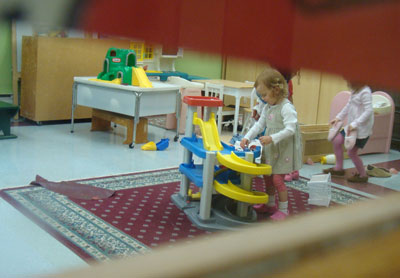 UPDATE: Silly me… I should have explained the various techniques that I used to help Julia improve her separation anxiety.
The suggestions in the comments of my previous post were soooo valuable.
I did buy the book "The Kissing Hand"!!! And it is fantastic… I think it really helped.
And the first day back after I wrote that post, when she was really upset, I followed another suggestion which was to give her something of mine to hold on to. It really worked. I only did it that once, but that day it was really helpful… since then I've just done the Kissing Hand and it seems to be enough.
The main thing has been me reassuring her that I am just sitting out in the hall and when she gets upset the teacher lifts her up to see me through the window. We sign "I love you" to each other.
The first couple of days she was continually asking the teacher to see Mommy through the window, but then it went to almost not at all and then just once.
Thank you so much to all of you who commented and shared your ideas and experiences on my earlier post. I really appreciate it!!!