This post may contain affiliate links. Read my disclosure policy here.
I'm sitting on the floor in the hallway outside my 3 year old daughter Julia's preschool class listening to her cry for her Mommy.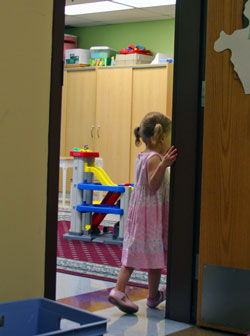 The perfection of her first day was short-lived.
Day 2 brought a few tears. Day 3 was harder still. And Day 4 included a phone call home to request a rescue.
So now I sit outside the door on the cruelly cold and hard floor and overhear my daughter's fears.
I know her pain intimately. As a child I suffered extreme separation anxiety for years and years. I can remember the feeling exactly. I sincerely felt like I could not survive my mother leaving and I could not understand why she would continually torture me.
I know Julia is not just being naughty and trying to demand her way. She is truly and profoundly anxious. But I also know that she needs to perservere through it. If I give in and take her out of school, it will teach her that she cannot survive and beat her fears.
I am devastated for her.
I know how difficult a life with anxiety and panic can be. I live it every day. My anxieties may have changed clothes through the years, but I still have this painful thorn digging into my ribs. Even with medication, my stomach is often sick and I am tortured with indescribable, irrational panic attacks.
I pray that Julia will grow out of this separation anxiety and that it will not continue to torture her.
It is so frustrating to watch twenty happy children learn and play, while my daughter clings to the teacher pleading for her Mommy. She will occasionally stop crying and join the class, but then remember her sadness and begin to cry again.
But wait… as I'm typing I realize that I haven't heard her wails for a while. I stand up and peer through the window. My precious little Julia's face is dry and she's smiling as she sits next to her best friend Madison in circle time.
Thank you Lord.
Today it took 75 minutes of sadness and tears, maybe next week will be better.
But I wonder what I should do to help her. What should I say? I can't even conquer my own fears.
What would you say? Has your child ever suffered severe separation anxiety? How long did it take for him/her to get through it?