This post may contain affiliate links. Read my disclosure policy here.
I never dared dream of such a perfectly pink, sugar and spice, little girl day of independence.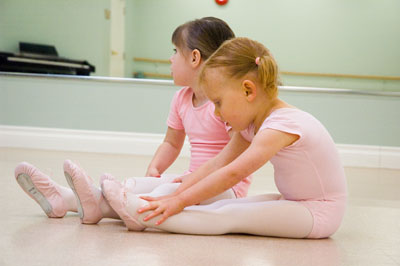 All summer I had been nervously waiting for this day. I thought it a touch of bad luck that my tiny and timid three-year old's first day of ballet landed on her first day of preschool — a morning class of ballet followed by an afternoon class of preschool replacing the not-quite-behind-us nap time.
Since my angel still refuses to be left in a class at Sunday school, I braced myself for tears and tantrums. I never believed this milestone day could be so perfect. I never even let myself hope for such superstar behavior and sincere joy of the adventure.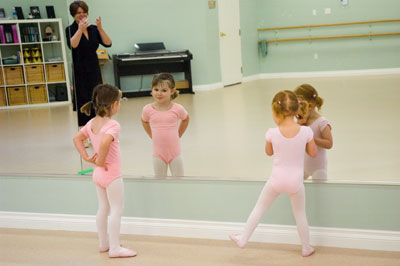 Julia was the first ballerina to arrive at the studio, followed closely by her best friend Madison. I madly snapped shots and tried to memorize the moment as my precious first born took her first steps in a dance studio.
The beauty of childhood is that all it takes to be a ballerina is desire. With their pink leotards, tights and ballet slippers, these little girls stepped into the studio and transformed into ballerinas.
And we mothers melted at the door, clutching our cameras desperate to preserve each millisecond.
Six pink, tiny ballerinas in one big studio followed perfectly behind their dance instructor. Ducklings couldn't beat it.
But as time so rudely refuses to slow, the class ended too soon and our ballerinas marched to the piano's beat out the dance room door to greet us gushing mommies.
After hugs, kisses and sing-song congratulations, we headed home for a quick lunch and preparation for the next big adventure – PRESCHOOL!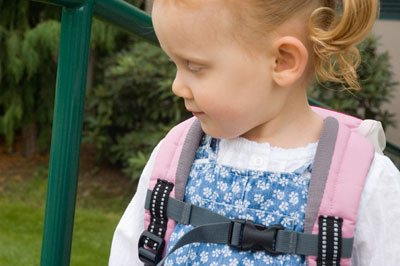 "Mommy, this is going to be so fun!"
Tummy-filled, potty-visited Julia wiggled with delight as I buckled her carseat.
But by the time we reached the end of the driveway, she suddenly had a wave of doubt.
"I don't want to go to preschool." She quietly ventured – testing my response.
"Ohhhh… you're teasing." I said with a fun voice. "Remember, you have Jackson's old teacher… Teacher Melissa!"
"I don't want Teacher Melissa," She rather quietly but with a note of defiance tested further.
"I can't remember the other teacher's name. Do you remember?" I replied, ignoring her bait.
Fortunately the ride to preschool was short and my sidetracking questions did the trick.
Soon we were at the school door, ready for the momentous moment.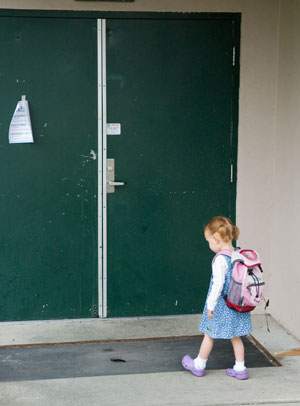 I swung open the door, and from down the hall, Julia's best friend Madison called out her name and any fear Julia had was fast forgotten. And so was I.
She let go of my hand and ran toward her trusted comrade.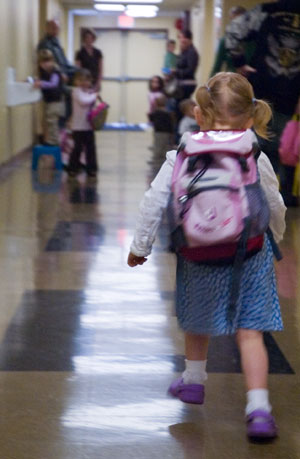 Her independence amazed me and reassured me that my baby was completely ready for this day. I perhaps was not.
With Madison by her side, she found her hook and hung her coat. With delight and pride she read aloud the letter 'J'.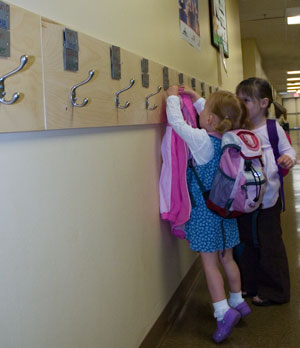 As we waited for the teachers to open the classroom doors, the girls took turns drinking from the water fountain and running up and down the hallway.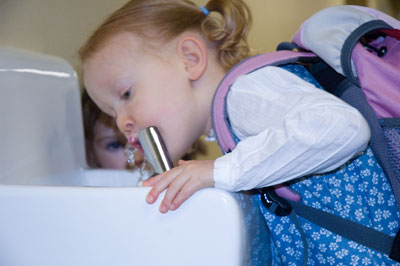 And again, as time brings each moment to an end whether we're ready or not, Julia let go of my hand and stepped into her first classroom. With only a quick glance back at me, she ran for the nearest toy.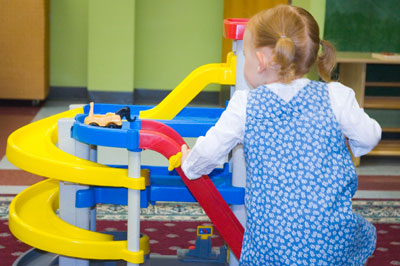 Moments later, she and Madison discovered a table covered with puzzles. With their backs to us, the two worked diligently at their puzzles for the next ten minutes.
But once Madison sought out a different play thing, and a new boy tried to replace her spot, Julia jumped up and looked around for Mommy to rescue her.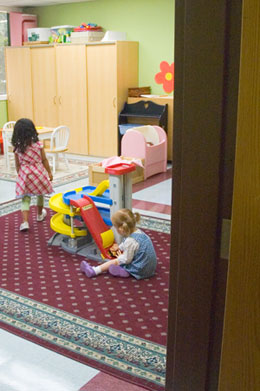 I reassured her she was okay and suggested she find a different toy, while internally I panicked that our typical Sunday School tears were about to begin. And then, shockingly, she picked up a toy car and began to play.
Once she was settled again, I kissed her cheek and said, "Have fun. Mommy's just going to wait in the hall with the other parents."
With the miracle of independence, she didn't even look up from her toy.
And I joined the other moms in the hallway for a delightful time of grown up chit-chat. Every few minutes we'd peer through the door's little window to check how our little students were behaving, and with each look I realized how ready my Julia was and I thanked the Lord for this precious child and this perfect day.