This post may contain affiliate links. Read my disclosure policy here.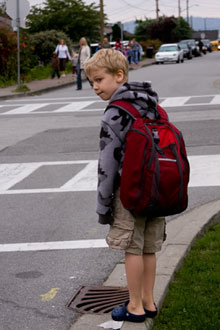 As your Mom, Jackson, I have the bittersweet job of helping you grow up. With each step I cheer, my heart cringes a little. I am preparing you for a world without me.
Today, you took one of life's huge steps and became a first grader.
You didn't hold my hand. No – you walked ahead of me, lost in your own thoughts and nerves.
I hung back and hid behind my camera, recording it all for my sentimental heart. (One day – when you and Olivia no longer need my time – I will at least have the photos to scrapbook.)
I couldn't bear to leave. I hung around as long as I dared and kept clicking away.
I was so proud of you, watching you bravely attack this new stage of life without even glancing at me for approval or help, and yet I missed my baby that clung to me just a few years ago.
Yes, you are growing up so fast – despite how badly I want to slow it all down.