This post may contain affiliate links. Read my disclosure policy here.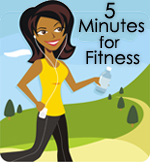 Do you have your back to school shopping list handy? Take it out right now and add this to the top: jump rope.
It's not for your kids though, it is for you!
Here are five reasons why you should be jumping rope for fitness.
1.It's cheap! You can get a quality jump rope for under $10. It does not require any batteries, electricity, or maintenance!
2.Easy to use! Just like riding your bike, you never forget how to jump rope. It may not be the most graceful thing you do, but all that matters is your effort!
3.It is so portable! Kids in the bathtub? Do some jumping. It will entertain them and give you a workout at the same time.
Throw it in the car on the way to soccer practice. While the kids are kicking, you are on the sidelines jumping.
Going out of town? Pack it in your suitcase and eliminate the need for hotel fitness centers.
4.It works your entire body! Unlike jogging, jumping rope involves both your arms and your legs. Work more in less time!
5.It's FUN! Think back to when you were a kid and how much fun you had jumping rope with your friends. Even though we have grown up, jumping rope is still fun!
Don't spend hundreds, or even thousands, of dollars on gym equipment that often ends up collecting dust in the corner. Invest a few dollars in a jump rope and have fun jumping into fitness today. Hurry up though, they might be selling out!
This column is hosted by Lisa. She can be found doing squats and lunges over at Workout Mommy.