This post may contain affiliate links. Read my disclosure policy here.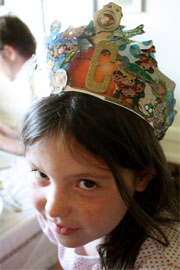 Just two weeks ago, Stephanie Nielson was celebrating her daughters' return to school with a sumptuous feast.
The meal was fit for princesses, as Stephanie lavished her girls with love right down to the smallest detail.
I can only imagine how proud her girls must have felt as they sat at the elegant table, the recipients of their parents' adoration.
"I prepared a feast for the family to honor the girls as they got ready to start a new school year.
Baby white roses decorate the dinner table. Honey seared salmon smoked in alder wood (prepared by Mr. Nielson) garden-picked beets, brown jasmine rice, and broccoli rabi along with the 2008-09 family theme.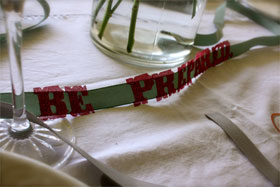 Crowns were made to honor the girls.
For dessert I made a classic chocolate cake with delicious chocolate butter-cream frosting.
Toasts were made, stories told, goals planned and the girls walked the cat-walk showing off the new school duds in a family fashion show."
With her eye for photographic drama, Stephanie captured the sweet devotion to her family in this special meal she prepared. Clearly, Stephanie is a mother in love with her family.
As I walked through her blog, a photographic journey of her devotion to her family, I stopped stunned by this post simply titled, I Love My Life. In it she shares photos her friend Wendy Whitacre.
"While in Utah, my cute friend Wendy Whitacre took these photos of us. She did a fabulous job. When I look at these pictures I feel so happy – she really captured how I feel each day with my life, kids, and husband."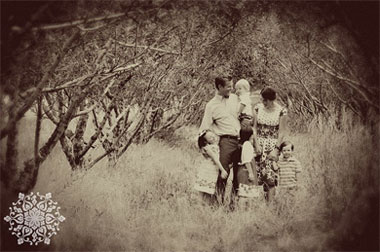 But after a tragic plane crash that left their pilot dead, Stephanie and her husband Christian are in critical condition and battling for their lives.
Stephanie has burns over 80% of her body, and Christian has burns over 20% of his. They both are facing months of agonizing recovery.
Hundreds of bloggers are rallying around the Nielsons, raising money for their medical costs and demonstrating their support.
Gabrielle at Design Mom is organizing a silent auction to raise funds. Over 275 items are being auctioned off in support.
Please click over to NieNie and join the blogosphere in sharing love, prayers and support for this wonderful family in this time of tragedy.