This post may contain affiliate links. Read my disclosure policy here.
I spend a good portion of my day on the computer. I work online, I shop online, I research online, and I socialize online. And I earn Swag Bucks online, too.
What are Swag Bucks?

Swag Bucks are the currency that you can earn at Swagbucks.com.
Tons of bloggers and internet-savvy people are using Swagbucks to earn gift cards and prizes for the things they are already doing online.
How does Swagbucks work?
Sign up for Swagbucks – You earn 30 Swag Bucks just for joining
Install the Swagbucks toolbar and start doing your internet searches through Swagbucks – You earn Swagbucks randomly when you search with the Swagbucks toolbar
Check Swagbucks.com regularly to earn Swag Bucks through the daily deals, special offers, videos, etc.
Invite your friends to join, too – You will earn one Swag Buck per Swag Buck that your friends earn, up to 1000 Swag Bucks
Trade your earned Swag Bucks in for Gift Cards

What are Swag Bucks worth?
There are over 2,000 products/prizes in the Swagbucks store, but the most popular prizes are the gift cards to places like Amazon, PayPal, Home Depot, iTunes, Best Buy, Starbucks, Barnes & Noble, and many more.  Gift cards and prizes are valued differently. The $5 Amazon gift card, for example, is worth 450 Swag Bucks. A $15 iTunes Gift Card is worth 1,850 Swag Bucks.
How to be successful with Swagbucks
Install the Swagbucks toolbar and use it to do your normal, everyday internet searches
Make Swagbucks.com your homepage
Check out the daily deals and special offers regularly and take advantage of them (if you love buying groupons, buy them through Swagbucks and you'll get rewarded!)
Install the Swagbucks widget on your homepage or on your blog or website
Refer your friends to join, too
"I signed up for Swagbucks a while ago but I don't use it anymore…"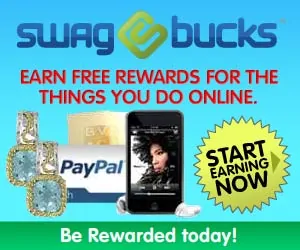 I hear people saying this (or something similar) every once in a while. The trick to making Swagbucks work for you is to let Swagbucks do it's work while you are doing what you already do online everyday.
You don't have to change your internet habits in order to earn Swag Bucks.
However, if you'd like to earn MORE, then you can spend just a few extra minutes per day (or per week) doing a few extras (like watching videos, finding swag codes, and making purchases through Swagbucks.com) to really kick up your earning potential.
Have YOU ever used Swagbucks?
Have you have ever tried out Swagbucks? What was your experience like?
We would love to hear your thoughts — please tell us in the comments section below.
Written by 5 Minutes for Mom contributing editor, Lolli.
Please Note: This post contains affiliate links. But no worries — as usual, our opinions are always 100% our own!