This post may contain affiliate links. Read my disclosure policy here.
Jennifer here with a question for all of you parents and grandparents out there.
We've been privileged to feature some fun in-depth coverage of a couple of must-see summer movies here at 5 Minutes for Mom. Christie O. reviewed Cars 2, and I've brought you interviews and coverage of Mr. Popper's Penguins. Both of us were upfront with our assessment of the movies — mainly that they are better for an older child than a young preschooler. Christie O. wondered about the intensity of Cars 2. The plot and some language made some of my fellow mom bloggers worry that Mr. Popper's Penguins might not be for their young preschoolers (whereas I couldn't wait to share it with my 7-year-old and 12-year-old).
Each time I take my kids to see a movie in the theater — which is more of a treat than a monthly experience — there are certain things that bug me. Part of these are issues that I need to take up with movie-makers, but others are with parents.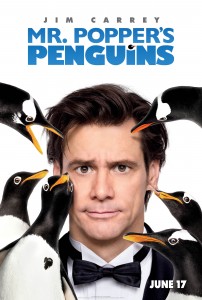 I'll share what bugs me, and I hope you'll share your issues in the comments. If you disagree, tell me. If you agree, I'd love to hear that too. Perhaps you are annoyed by something I haven't mentioned.
Also, be sure to check out my giveaway to win a $50 movie gift card (because the high prices do bug me!) and Christie's Cars 2 goodies giveaway (because whether they see it or not, they're still gonna want you to buy stuff for them!).
Kids too young for the movie. I can count on one hand the number of movies in the theater my kids saw before they were 5. They saw a couple, but it was a special experience, and honestly not that successful. Monsters, Inc is one of mine and my kids' favorite movies. I think that was her first movie experience at about 3 1/2 years old, and I realized that she was probably too young. As great and kid-appropriate as that movie is, about an hour in, she was ready for it to be over. when I took my family to see Mr. Popper's Penguins last weekend, the 4-year-old girl sitting next to me kept asking her mom questions throughout the movie: "Why did that happen? Is he going to be okay?" etc. She wasn't old enough to handle the plot. Perhaps it's better to wait for the DVD.

Content clearly meant for adults. You know what I mean. Most of these references go over a child's head, but do we really need sexual innuendo in a movie that is meant for 6-year-olds? The lack of that content was one thing I really appreciated about Despicable Me and most Pixar movies in general.

"What the. . . . .?" I mentioned this in my review of Mr. Popper's Penguins, but if I never hear "What the. . . ?" in another kids' movie, or other substitutes for cursing, I would be a happy mom. I don't like hearing my 7-year-old say it, but what do you expect when he hears it in a movie and on TV all the time?

I think that both parents and movie-makers try to make movies a "one-size fits all" experience, but the truth is that the movie that is appropriate for our 9-year-old is likely to be too much for our young preschooler to handle. That's hard to deal with, especially when we are looking for a fun family outing, but I think we'd all be better off if we tried to tailor our kid's movie experiences to what was appropriate for them.
Am I off my rocker? Or did I miss something else that you wish you can't stand? Let's talk about it.
Original post by 5 Minutes for Mom contributing editor Jennifer Donovan