This post may contain affiliate links. Read my disclosure policy here.
I had no idea so many of you would want to adopt these (stuffed) puppies!
I spent hours going through all of the posts and comments trying to choose which home would be the perfect match for these three homeless pups.
Choosing is the hardest part.
There are so many of you who deserve these puppies and who would provide wonderful homes and have children soaring to the moon on their beams of happiness. (There were over 70 entries in the Linky, and over 300 comments!)
It's heart-breaking for me to have to select just one recipient… but the one thing that helps is that I know Christmas is coming, (and there are always birthdays too) and that we do keep the price of these pooches as low as is possible.
So hopefully, some of you whose children would love an almost-real dog for a pet, can still make your children's wishes come true. (But if you're ordering for Christmas, don't wait too long as the breed you want may sell out long before Santa can finish shopping.)
Okay… so… the new adoptive parents for the three pups are:
Deanna's three children — from Hand Picked with Love.
Deanna was entry #60 in the Linky.
Her three children are also all adopted and have beautiful stories of how they found each other and formed a perfect family.
Below you can see photos of the three children and read Deanna's winning entry.
The Precious Pups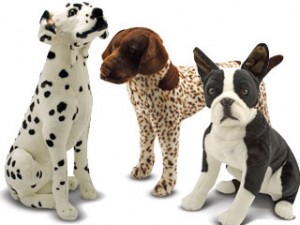 The Proud New Puppy Parents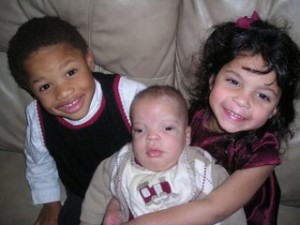 The Winning Entry
WILL WE BE CHOSEN AGAIN TO ADOPT??

The hardest part often in adoption is the waiting to be selected by parents who will entrust you to care for their precious ones. We have been through this process several times and did not think we would begin the journey again at least not so soon after Samuel. He is only a year old and continues to work hard with his therapies and makes progress daily. But we are asking yet again for individuals to consider us for a very special adoption.

This time our focus in somewhat different… through the wonderful world of blogs we discovered that there are 3 life size stuffed puppies needing homes. The kids have been wanting a puppy but have no time to feed and walk a puppy so we have told them to wait. Well the wait may be over. These puppies immediately tugged at my heartstrings due to their markings.

The first is your typical dalmation when we adopted Timothy we told the lady that we did not care if he was black, white or polka dot. He is bi-racial and now that he is 5 he says sometimes that he is just like the firehouse dog black ad white.

The second puppy needing a home is also black and white as is Claire who is also bi-racial but the one that tugs at my heart the most is the brown and white spotted puppy.

Samuel our youngest has what is called a mosaic disorder which caused underdevelopment of his brain.

When he was first born the original adoptive family left the hospital once they realized that he may not be "healthy" and he "looked different". That's when we got the call we were on the way no matter what he was our son. Now his coloring is somewhat spotted and discolored but that does not bother us at all and he was hand picked with love to be a part of our family.

Please consider us to be parents of these adorable puppies I believe that they too were hand picked to be a part of our family and with on going therapy appointments, kindergarten and preschool they need just the right amount of care I can offer. Unlimited hugs and kisses from the kids and Claire may very well try to get them a bowl of food in case they become life like only for a moment 🙂
Please take a moment to visit Deanna's blog Hand Picked with Love and help her family welcome their new pets.
Thank you all for joining in this search to find these puppies a family.