This post may contain affiliate links. Read my disclosure policy here.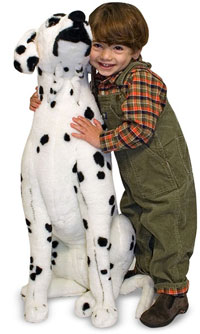 We have three adorable stuffed, plush life-size puppies to send to one of you!
These three stuffed animals are from our store A Rocking Horse To Love. They are brand-new and still in their packaging, but the customer who ordered them was from a large company who was going to be using them in some event that was canceled.
We keep the prices soooooo low on these stuffed toys that we can't afford to be shipping them back and forth across the country… they're LIFE-SIZE after all! So instead of us shipping them back to our warehouse and then shipping them back out to new customers, we decided to send them ALL to one of our loyal readers.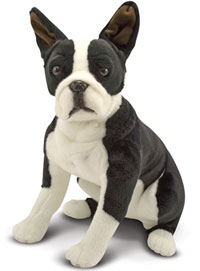 So, would you like to give one of these oh-so-cute stuffed dogs to your children and give the other two to friends?
Here's the deal…
We've got to find these dogs a home fast! So, if you want them, write up a post on your site and tell us why we should send all three dogs to you.
We need to make sure you're not Cruella D'Ville. 😉
(Remember, they're not real, so you won't have to walk them and pick up their… well, you know what I mean.)
In my opinion, the Dalmation and the Boston Terrier are really, really cute… but I feel a little sorry for this German Shorthaired Pointer… but maybe you can find the right owner who will love him. 🙂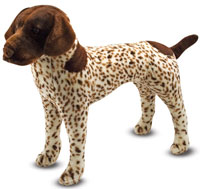 Okay, so quickly put up a post on your blog telling us why you want to adopt these puppies (or adopt one and find homes for the other two). Then sign the Mr. Linky below so we can go and read why you should get the pups.
In your post, please link to where these puppies can normally be found — our Stuffed Animals section of our toy store.
If you don't have a blog, you can leave your entry as a comment.
We will choose a home for the puppies on Friday, August 8th.
Here's the Mr. Linky where you need to link to your post.
You can influence our decision by leaving comments here. So for those of you who may not have a home for the puppies, you can read through the posts and help us select the right new owners.