This post may contain affiliate links. Read my disclosure policy here.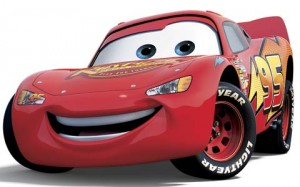 It is Lolli writing today — 5m4m's newest contributing editor…
Despite the challenge that watching a movie in the theater can be with small children, there are a handful of movies that we deemed worthy of a family trip to the theater.

Cars was one of those movies.
My youngest son, AJ had just turned one – not the most ideal age for sitting still in a dark theater for an hour and a half – but the older kids (and Dad. Ok…especially Dad) were so excited about seeing Cars shortly after it was released that we braved the theater with a baby and four other little kids.
After the previews and ads ended, the movie started. I was so wrapped up in the movie that it took me a while to realize (with shock!) that I was still sitting in the theater, baby in lap. The fact that I wasn't pacing the hallway was a miracle. Even at a year old, my little boy was enthralled.
Now, 5 years later, he is still enamored with Cars. In fact, he received another Car for his birthday last week (and not just any car – it was a Cars car). Where the Disney princesses have caught the hearts of little girls, Disney's Cars has caught the attention of the little boys (at least in my family…).
Celebrate Disney's June 24th release of Cars 2
To celebrate Disney's upcoming theatrical release of Cars 2, Rayovac is hosting the Cars 2 Sweepstakes kicking off on June 1st through June 15th.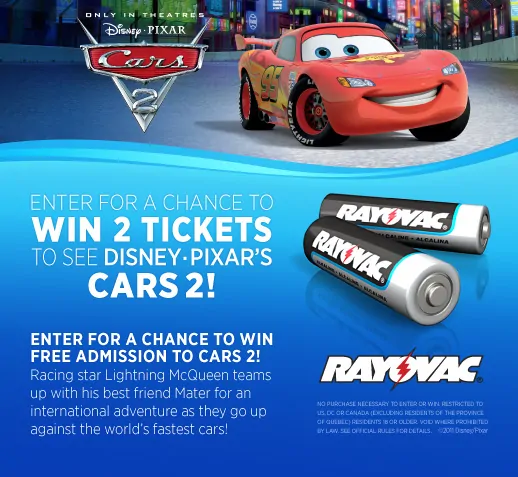 Entering is Easy:
Starting on June 1st, go to: www.facebook.com/rayovac and click on the Rayovac June Cars 2 Sweepstakes link
Simply fill out the entry form and you'll be entered for a chance to win
Contest Information and rules can be found under the Rayovac June Cars 2 Sweepstakes link as well
Please Note: We are Rayovac Sponsored Bloggers. You can find coupons and more at Rayovac's Facebook Page.