This post may contain affiliate links. Read my disclosure policy here.
I love listening to people's stories. I'm fascinated with lives that are different than mine.
I could listen for hours and hours to interesting, intelligent and funny people tell me their stories. And in the last few days, I actually have.
You see… recently a friend sent Janice and me the following Facebook message…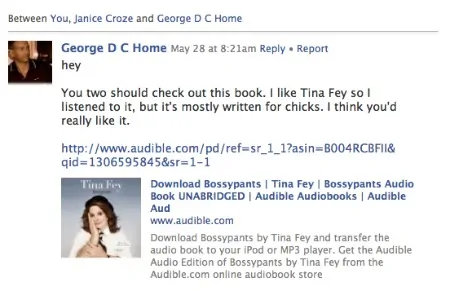 Yeah, it was a really hard sell, hey? LOL.
But it was a well timed message as I've always meant to try listening to audio books. I love reading but I just can't seem to sneak enough book-time into my crazy busy work-at-home mom life. And so I'm always looking for ways to multitask and make more out of my time.
My friend who sent this Facebook message said that he listens to audio books from Audible.com on his iPhone while he's exercising, doing chores and driving.
So I clicked through to audible, signed up for $7.49 and downloaded Tina Fey's book Bossypants for free.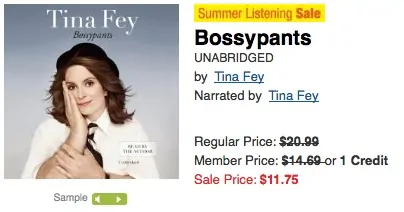 I loved Tina's book.
But what I REALLY couldn't get over was my excitement for my new found boost in multitasking. I listened while I walked, drove, did dishes, sorted laundry, formatted posts, edited photos, tweeted, confirmed Facebook requests… everything.
I discovered I have hours of time where I'm physically busy but my brain has cycles to spare and is begging to be kept busier.
That might be revealing my slightly ADD tendencies and my pathological hatred of boredom, but I'm sure I'm not alone. I bet you've got lots of mundane tasks chewing up your day where you could handle some extra intellectual stimulation.
So I fell in love with Audible through my gal Tina telling me all about life on the set of 30 Rock and kicking ass on SNL.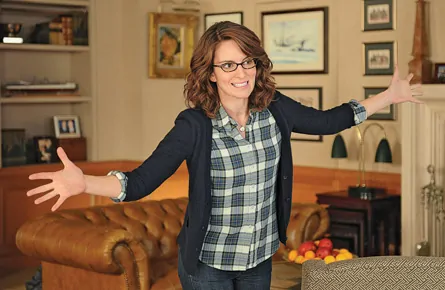 I loved that I could relate to Tina as a working mom struggling with the impossible balancing act and feeling uncomfortable with the term "Nanny".
But once she'd told me all she had to say and the fabulous 5 hours and 35 minutes of Bossypants were done, I had to move on.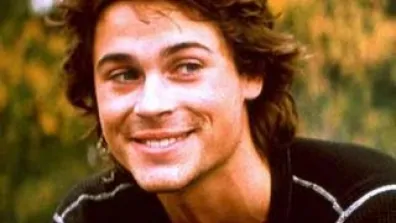 And I knew whose arms I was running to…
Yes, those arms.
Just like every other teenage girl in the 80's, I fell in love with Rob Lowe as a bad-boy in St. Elmo's Fire and then watched him struggle with career ups and downs.
As an adult, I sighed with relief as he found the perfect role in the West Wing and we remembered he wasn't just hot, he was talented.
But now it was time to really get to know him.
I clicked Download on Stories I Only Tell My Friends.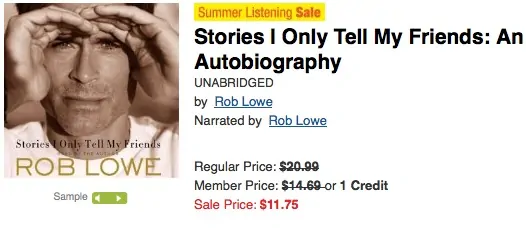 Rob spent more time with me than Tina had. So far I've enjoyed 8 hours listening to him tell me everything from the day he realized his dad wasn't coming home to the ego-busting moment when he realized his Sodapop Curtis storyline had been almost completely hacked out of the Outsiders.
Okay, fine… neither Tina nor Rob know they've been hanging out with ME while I install software on my mom's new computer or while I sort my 6 year old's socks. But, I think they realize how powerful their stories are… especially when they read those stories themselves out loud. It's an intimate thing… to read your own story to another person. To make your listener laugh out loud or choke back a tear.
Tina Fey is a hilarious comedian and as I listened to her voice through ear buds on an iPhone, I felt like she was there entertaining just me. Rob Lowe is a talented actor whose had a complicated ride through stardom and I felt like I was with him as he auditioned before Francis Ford Coppola.
It's been a wonderful few days. But just as my time with Tina Fey had to end, in just over an hour, I'll be saying good-bye to Rob Lowe.
And the question now is… who's next?
Who do YOU think I should listen to next?
Do YOU have an Audible.com account yet?
What audio books have you listened to?
Have you read Tina Fey's or Rob Lowe's books?
Which do you think you'd prefer, reading or listening to them?
Written by Susan Carraretto, Mom Blogger and 5 Minutes For Mom Co-Founder
Stay with us… grab our RSS feed, tweet with us and join our newsletter list.
Disclaimer – I've included my Audible affiliate code in these links.