This post may contain affiliate links. Read my disclosure policy here.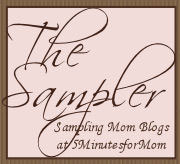 5 Minutes for Mom brings you exclusive samplings from the best mom blogs in our weekly column, The Sampler, hosted by 5 Minutes for Mom contributing editor Shera, from A Frog In My Soup.
Christie O'Sullivan is the journalist turned stay-at-home mommy of 2 boys behind Baby Tea Leaves. Her first son was born prematurely at 34 weeks which caused Christie a bit of anxiety about conceiving (let alone carrying) another child. Much of the post she wrote for us today talks about her experience with entering the world of new-mommyhood for the second time.
That Smile
I wasn't sure if there was ever going to be a time when I'd want another baby. I knew I wanted more children, but I didn't really want to be pregnant again. I loved being pregnant so much the first time around, but somewhere along the way it all went horribly wrong and I was left on the other side of pregnancy with a beautiful baby boy and a broken heart. The thought of repeating this process terrified me. But my path to self-forgiveness started as most things do in a woman's life, with an episode of Oprah.
I was sitting on the floor in front of the tv folding laundry. Her episode of The Secret was on. No, I didn't "secret in" some forgiveness (or did I?), but there was a guest on there, a guy, who said something that turned on a lightbulb for me.
It was something like, (and forgive me for not having the exact quote — this is how I remember it) every day that you don't forgive yourself, you are dooming yourself to repeat that day or that period in your life forever. He said you have to thank God (yes, actually be thankful!) for that experience, forgive yourself, and move on.
Tall order. But I realized I had to do it. I was reliving the 9 days my little boy spent in the NICU over and over again. The scary moment he was born and rushed off to the NICU. The terrified looks on my husband and mother's faces. The emptiness I felt having to go home without my son. Even though he was here at home with me and healthy, I could not snap out of it. I was punishing myself for his being born 6 weeks early. I was punishing myself for developing preeclampsia. My body didn't do its job when I was pregnant, and somehow it was my fault.
I decided to forgive myself. Then something amazing happened. Coincidentally (or not), the following week I finished the scrapbook that I had been working on of our NICU experience. Soon after, we walked in the March of Dimes walk. All of this happened around the same time and was therapeutic, like closing a chapter.
Then I found out I was pregnant. Again. And I was terrified. What if my body didn't do this right? What if he was born even earlier than the first?
So every night, I prayed to a giant list of people. I prayed to God, Jesus, Mary, Joseph, St. Gerard (the patron saint of pregnant women), St. Bernadette (my mother's favorite saint), Kateri (Native Americans consider her a saint), my grandmother, both of my grandfathers, and my husband's father.
I asked that my son not only make it the whole 40 weeks, but 41 just to be safe. I asked them (or begged, rather) to surround my baby with their love and to keep him safe and sound in my body and I asked (begged) that they watch over my body and help it to do its job.
Not only did my son make it to full-term, he made it two days shy of 41 weeks. Just like I asked.
But oh, how I was at the end of my uncomfortable rope. I said (begged), out loud, "OK guys, I am ready. Please, send me into labor. Break my water. Anything. I am ready. My body is ready. Let's do this. Please?" And I hoped that someone was hearing me. I was officially miserable. Happy. But miserable.
An hour later, my water broke.
My labor was long. That whole thing about the second baby just slipping out? Nope. Not for me. Three hours of pushing. He was stuck behind my pelvic bone, face up. We were two minutes from a C-Section. I couldn't push even once more; there was nothing left. His heart rate was starting to drop a little. I knew I couldn't do it alone, so I pulled off my oxygen and I asked God and my long list of "helpers" and again, I found myself begging, as I had many times before, with tears streaming down my face.
Two more pushes, he was out.
He's six months old now and I call him my "little healer". He was sent to me as a blessing. To save my life. He is the absolute smiliest, happiest baby I have ever seen. So smiley that I get right up in his face with the camera and take a closeup of it almost every day. And every day that I see that smile, I am so grateful. He helped me close such a painful chapter of my life and showed me it was safe to start over.
So you could chalk it up to Oprah, she sure does get a lot of credit for things these days. Or miracles, or time healing all wounds. Or God granting me some serenity when I was asking for it (or begging). Maybe all of it. But in the end, someone or something saved me. I think it may have been that smile.
~ Written by Christie O'Sullivan of Baby Tea Leaves.
If you would like to be considered for The Sampler please review The Sampler Guidelines.
This column is Hosted by Shera. She can be found at A Frog In My Soup