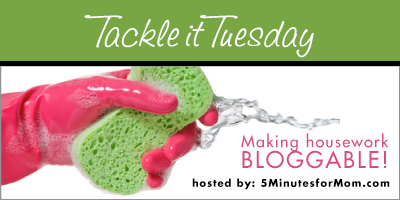 You've likely heard me moan about my laundry woes. I truly hate doing laundry… but I've got a couple little helpers who recently have discovered THEY like doing laundry.
This time, I grabbed the camera when Julia decided to be my helper.
The only trouble is that sometimes "little helpers" can seem to slow down the process.
But I'm trying to embrace their excitement for this tedious chore as I know they'll grow out of it soon.
It may take a little longer, but eventually it gets done.
Sometimes… 😉
Mom Bloggers — what are you tackling this week? Link up your Tackle it Tuesday post…
Tell us what you're up to with all your other tackles… housework and otherwise… add your link to your tackle in the Linky below!
We are making housework bloggable — Each week on Tuesday, we are posting before and after pictures of a project or trouble area that we tackled this week.

Find out more about Tackle It Tuesday here.
The project can be little or big – whatever you want.

Basically, Tackle It Tuesday is about giving ourselves incentive, deadlines and satisfaction in getting our household tasks done.

(It doesn't even have to be housework… just whatever is on your To Do list.)
If you tackled a project this week, just add a comment and add your link below.
Here is a fun thumbnail linky:

And here is a basic linky if you prefer your linkies the good old fashioned way!


Written by Susan Carraretto, co-founder of the Mom Blog 5 Minutes for Mom.
Talk with me: @5minutesformom and Facebook.com/5minutesformom.