This post may contain affiliate links. Read my disclosure policy here.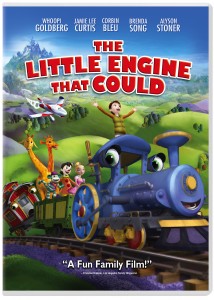 "I think I can. I think I can. I think I can."
Instantly recognizable as the famous line from the classic children's story by Watty Piper, this mantra is at the core of the new DVD release of the animated film The Little Engine That Could. Expanding on the traditional story, the film maintains the essence of Little Engine's character- someone who believes in herself, even in the face of significant challenges.
Everything gets all mixed up in Dreamland when a human child mistakenly enters its realm. As a result, a special toy delivery is in jeopardy, but Little Engine has faith that she can do the job, even when all the other trains discourage her efforts. Along the way, she faces challenges and big scares, but we all know what happens when Little Engine believes she can do something, right?
The film has a fun cast with some recognizable voices, such as Whoopi Goldberg and Jamie Lee Curtis, and some popular young stars like Corbin Bleu and Brenda Song. The animation style is consistent with the bright and colorful images I'm familiar with in a couple of the most well-known book versions, such as Loren Long's illustrations in the 2005 edition of The Little Engine That Could. While the story is more complex in this almost 90 minute film, the feeling remains the same.
My own kids have enjoyed the movie a couple of times now, and at 3.5 and 5 years old, they're right in what I would perceive to be the target age range for the film. They're not particularly "train obsessed" as some kids are known to be, but they've enjoyed the funny banter between the engines and the beauty and joy that is apparent in Dreamland. However, there's one segment of the film that registered as a bit more disturbing and intense than I expected in the form of a "Nightmare Train," which I think might be scary to some young children. Many of the movies that my kids have watched include a scene that we tend to skip, and this may be the case with other families as well. The majority of the film is more lighthearted, and the other conflicts were easier for my own children to handle and even provided fodder for conversations about sticking up for yourself and finding courage.
Universal Pictures has partnered with the Starlight Children's Foundation for the DVD release of The Little Engine That Could, and they will be making a donation of 50 cents for each DVD sold. In addition, Amtrak has a limited time offer: buy the DVD and receive a "Kids Ride Free" AMTRAK coupon. Coupons valid from when booking your travel from March 22 – September 15, 2011 for travel October 1, 2011 – February 29, 2012 (restrictions and black-out dates apply).
Giveway time! We have a special prize pack worth $200 for one lucky winner:
To enter, please leave one comment here. Giveaway open to U.S. mailing address only. We'll announce the winner in our 5/23 column.
For more reviews on literature to film adaptations, please check out the archives of our Books on Screen feature on 5 Minutes for Books.
Written by Dawn, whose children are big fans of both books and movies, but their parents push one more than the other. (Can you guess?) Both also make frequent appearances as topics on Dawn's blog, my thoughts exactly and love enjoying the books she reviews at 5 Minutes for Books.