This post may contain affiliate links. Read my disclosure policy here.
Husband-and-wife counseling team and co-creators of the eHarmony marriage program Les and Leslie Parrott urge their readers to try Trading Places. Trading Places is all about empathy. They claim that if we truly emphasize with the other person–imagine what they are feeling and why–that there will be less conflict, less yelling, and more happiness.
Leslie shared a story with which I could relate all too well to demonstrate the power of responding empathetically. I'll share my parallel story with you. Actually, in thinking about how to share it, I realize (sadly) that I have several stories that are completely similar, but I'll stick with one.
I was driving towards home along one of our narrow country lanes, and–BAM–my side view mirror slammed to the side. I pulled over quickly and realized that I must have hit a mailbox or something. I didn't seem to have damaged any property–except for my mirror. In the age of computer sensors and auto-adjust and defogging, those things are pretty expensive. I was immediately filled with regret for my careless error and dread about breaking the news to Terry.
In the end I called him up right away. I couldn't wait until he got home, because I was so worried about it. I called the dealer and found out how much our repair costs would be (and it actually wasn't as high as I thought it would be). When I called him, I apologized and presented the facts, and waited to see how he would react.
He showed empathy (and a heaping measure of mercy and grace) in his response. He understood that although I was careless, it was just a mistake–a mistake that I did feel sorry about. But in analyzing it, I realize that I showed empathy in my attitude as well. I understood that my careless error would cost us money. I understood that he had a right to be upset with me about it (I sometimes feel like the teenager in these situations). Because I p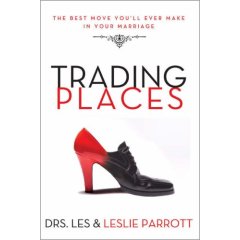 ortrayed the humility and regret I was feeling when I told him about it, his response mirrored that emotion.
Living out this situation (and several others throughout our fifteen years of marriage) has shown me the importance of making this effort to know and understand one another in this way.
The book has a wonderful format. First there's a walk-through of how the material will be presented, which is great for those of us who want to know what's coming and what will be expected of us. The information is presented in an easily digestible, conversational tone. The appendix has some great words to use (or avoid) when expressing yourself, and also some additional help for those with special needs: trading places when your spouse doesn't want to, and a special message for those who have been burned.
If you would be interested in looking at your spouse in a new way (or encouraging a fresh look from him towards you), you can enter to win one of 5 copies of Trading Places by leaving a comment. The winners will be announced next week.
To see what others' had to say about the book and to watch a little video clip of the Parrotts, check out the Zondervan Blog Trading Places Blog Tour post.
The winner of last week's book, The Joyous Gift of Grandparenting, is #78 Helen.