This post may contain affiliate links. Read my disclosure policy here.

Project to Tackle: My Desk
Life has been busy! I have barely been in my house the last few days, let alone tackling anything.

So tonight I finally got home at 9pm, quickly got Jackson in bed, with stories and prayers, and made my way downstairs by 9:30 pm to look around for something to tackle before I collapsed with fatigue. I was definitely not in the mood to tackle the kitchen pantry, which I had hoped to get to all weekend.

Instead I turned to my "desk," the kitchen table and home of one of my enormous early Tackles. I have been trying hard to keep it clean, but a stack of papers, mail, etc has been growing steadily and cluttering my space, despite my vain attempts to mask the procrastination by stacking it in a "neat" pile.

Yes – it needed a little tackling again.

It wasn't as quick of a tackle as I hoped, (it is almost midnight now) but it is done! Well, until that mailman comes again. Don't you remember those days when you longed for mail?
My Desk — Before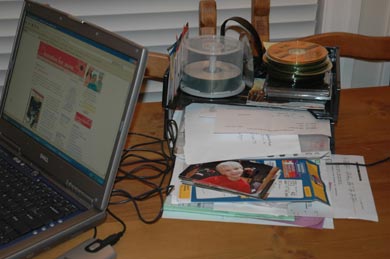 My Desk — After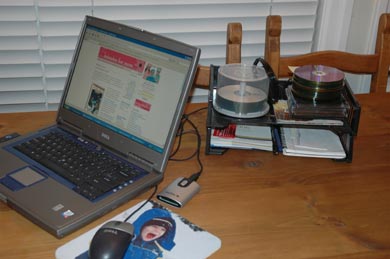 So what did you tackle this week?
Come on – you know you want to show off! And if you haven't tackled yet – no worries – show us your before picture and then get tackling! We will cheer you on!
Please Note: I tend to do my visiting from the comment links, not the Mr. Linky. So please leave a comment when you add your name to the Linky, so that I don't miss you. (The reason I use the comment links is that some visitors are not participating in Tackle It Tuesday, but I still drop by and visit their blog. In past weeks I have tried to go through both lists, but I just want to give you the heads up that if you aren't in the comments, I might miss your place by accident.)
Join Us For Tackle It Tuesday

We're making housework blog-able!

Each week on Tuesday, we are posting before and after pictures of a project or trouble area that we tackled this week.

I will link to any of you who are also playing along, so add a comment and/or email me. Find out more about Tackle It Tuesday here.

The project can be little or big – whatever you want. Basically, Tackle It Tuesday is about giving ourselves incentive, deadlines and satisfaction in getting our household tasks done.